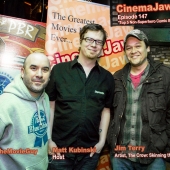 Update Required
To play the media you will need to either update your browser to a recent version or update your
Flash plugin
.
Hey CinemaJaw fans, we will be at C2E2 THIS WEEKEND at McCormick Place in Chicago. Find us at booth Q17! 
Super Dooper!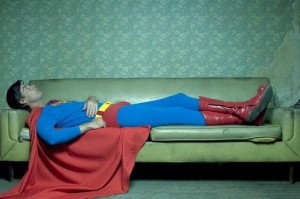 Comic book movies are often only thought of as the summer blockbuster fare. With men in tights, high flying super heroics, and amazing action, we all love these films! However, today CinemaJaw is delving a little deeper into the world of graphic novels and comics to unearth the films that were based on sequential illustrations, but do NOT feature superheroes! (GASP!) It's true… they do exist, and whether you know it or not, these are some of your favorite movies!
Joining us for his third appearance on CinemaJaw is Chicago comic book artist Jim Terry. CinemaJaw has been fortunate to be among the few to see the pages of his most recent project fresh from his drawing table, and we've been talking to Jim about his exciting news for well over a year! That news: (slightly out of the bag at this point) is that Jim is the artist on The Crow: Skinning the Wolves book, penned by James O'Barr (creator of  The Crow). It is the first such book from O'Barr in a long long time, and we are VERY happy to see Jim hand picked for this project! It is out now, and all of you should READ IT!
In addition to our Non-Superhero Comic Book Movie picks, we go I for an I (Interested or Ignore) on  , have a CinemaWAR over Michael Bay, and play some Bounty Hunter movie trivia. Plus all the tomfoolery you've come to expect. So leave your cape and tights at the dry cleaners and kick your feet up, listen to some CinemaJaw!
Reviewed this episode: Jurassic Park 3d, Dredd, Robot & Frank, The Imposter
CinemaWAR: Is Michael Bay a Hack? or a Good Director?
I for an I: Pain And Gain
Trivia: Bounty Hunter Movie Trivia