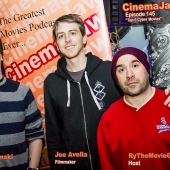 Update Required
To play the media you will need to either update your browser to a recent version or update your
Flash plugin
.
Welcome to the internet!
Since the late 80's the internet has rapidly turned into an indispensable part of our daily lives. From Chat rooms to email, to social media and mobile. Who could exist anymore without the internet? It's quite true, this very podcast that you are reading about wouldn't exist either! That is why this week on CinemaJaw we will take a look at our favorite Cyber/Computer/Internet Movies.
We need a digital dynamo to help us hack into this mainframe. Enter Joe Avella. Fresh off his feature directorial debut Master of Inventions (which is available FREE and in its entirety here), Mr. Avella helps us get plugged into this topic. This also marks Joe's 3rd appearance on CinemaJaw, and a heated trivia battle is SURE to ensue!
Download it.
Reviewed this episode: American Grindhouse, Foxy Brown, War Witch, No, Gi Joe: Retaliation, Olympus Has Fallen, This is 40
CinemaWAR: Which is the better baseball film: Major League or Field of Dreams?
I for an I: Disconnect, 42
Trivia: Harrison Ford Movie Trivia