Podcasts are permanent.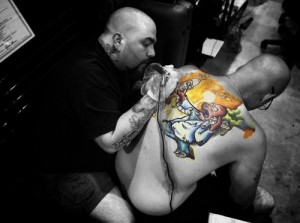 This week on CinemaJaw the boys go on location to Royal Flesh Tattoo here in Chicago to meet with renowned tattoo artist Mike Bianco, and talk Tattoos in Movies! This topic may seem light on the surface, but when you think about it, it is much more than skin deep. Tats play a vital role in many movies of many different genres. Horror, comedy, sci-fi, you-name-it tattoos have been both plot devices and even characters in film! This was a fun list to come up with and the results may surprise you!
Mike Bianco is both a Tattoo wiz and a comic book artist to boot. If you are ever looking for a good piece of ink look him up at his site Beyondco.net! Also, special thanks to Ashley who is being tattooed throughout this episode! What a good sport.
Reviewed This Episode: Zach Galifianakis Live at the Puprple Onion, The Greatest Movie Ever Sold, The Descendants
I for an I: Shame
CinemaWAR: Is Halloween or Christmas a better holiday for movies?
Sponsor: Please visit Evil Squirrel Comics in Chicago, or online, for the best deals on comic books around!
CinemaJaw is planning something very special for it's upcoming 100th Episode!