I give thanks for movies!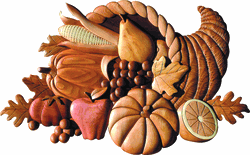 The holiday movie season is upon us, and while there is a clear delineation as to what makes a Halloween or Christmas movie, one famous holiday has gotten basted when it comes to being stuffed with movies: Thanksgiving. Although Ry the Movie Guy claims Thanksgiving as his fave, for the rest of us it is merely the in-betweener. Sure we get to stuff our faces until we pass out, a day off work, wine and family and football but Thanksgiving can feel a bit lackluster in and of itself. So we at CinemaJaw decided to do our part to raise the stature of this B-list holiday by listing our Top 5 Thanksgiving Movies. To pull of this task will take some magic!
Enter Edd Fairman, Wizard of Sorts one of Chicago's best professional Magicians! Edd helps our boys conjure up some good picks with extra gravy! No turkeys on these lists… Ok enough with the puns. Take a listen to our Thanksgiving Special and also hear the debut of our new listener feedback segment "the Jaws of Life"! All that plus our usual segments, trivia and so much more, listen hard! You're a good man Charlie Brown.
Reviewed This Episode: Martha Marcie May Marlene, Terry, In A Better World
I for an I: J Edgar
CinemaWAR: Should the Mission Impossible series continue?
Jaws Of Life: (you can only save one) Halloween, Jaws, A Nightmare on Elm Street
Sponsor: Please visit Evil Squirrel Comics in Chicago, or online, for the best deals on comic books around!
CinemaJaw is planning something very special for it's upcoming 100th Episode!