Can we hold hands?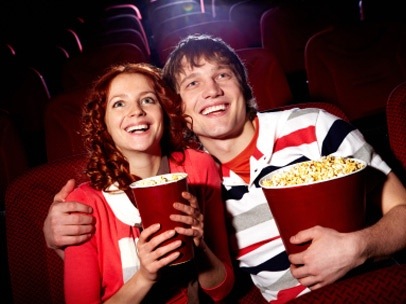 Let's face it, as teenagers we missed a lot of movies. Not because we didn't go, but we were busy making out! Dating and movie going are inextricably linked. From the time our hormones kick in, to when they are long since kicked out, the movie date is an essential part of every stage of every relationship. They really tell us so much about our partners: did they talk or take a phone call during the film, do they have a similar opinion on the movie, etc. Like I said, essential, need-to-know stuff. Even bad dates are perfect for the movies, because really, you don't have to talk to each other too much! That is why from the penny arcades to the drive-in, from the local movie house to the multiplex, movie tickets sell in pairs. And that is why this week on CinemaJaw we cover the Best Date Movies!
We need an expert. Enter Ana Fernatt! Known for her awesome and optimistic dating column in the Chicago RedEye "Accidentally Sexy", Ana is the perfect guest to help us cover this important topic!
Also, listen to Ana chime in on all your favorite segments: I for an I, Guest vs. Host trivia, CinemaWAR!, Hollywood Headlines and a ton of conversation! She did try the old "yawn arm stretch" technique on us, but we forgive her. So cuddle up with your favorite date, pet, or flavor of ice cream and get intimate with this fantastic episode of CinemaJaw!
Sponsor: Please visit Evil Squirrel Comics in Chicago, or online, for the best deals on comic books around!
Reviewed this episode: Crazy Stupid Love, Jane Eyre, Four Lions
I for an I: the Debt
CinemaWAR!: Should Arnold Schwarzenegger return to the silver screen?