Burn Baby Burn!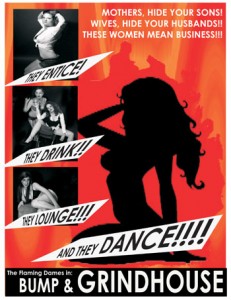 Things get hot on the set of CinemaJaw, as the boys discuss a burning topic with some fiery ladies… The Flaming Dames. Not one, but THREE (Leslie the Artistic Director, Andrea the Choreography Manager, and Amy the Production Manager) of Chicago's hottest, no pun intended that time, burlesque dance troop join Matt K and Ry the Movie Guy to choose the Top 5 Dance Movies. The Dames (for short) are arguably single-handedly bringing burlesque back to the forefront of pop culture, by paying homage to the art form's roots, but updating it for modern audiences.  Who better qualified to help the guys go over an oft requested topic like Dance Movies? Although you might think that this is a short list, you will discover that it really isn't at all. Some of the best (and worst) movies of all time can be put in this category.
The Flaming Dames are also put through the gauntlet of allt he famous CinemaJaw segments you've come to know and love like, Guest vs. Host Trivia, I for an I, Hollywood Headlines, Reviews, and so much more! Somebody grab a fire extinguisher because the roof, the roof, the roof is on fire!
Sponsor: Please visit Evil Squirrel Comics in Chicago, or online, for the best deals on comic books around!
Reviewed This Episode: Horrible Bosses, True Grit, Restrepo
I for an I: Conan The Barbarian
CinemaWAR!: Is Ryan Reynolds an A-List Actor?