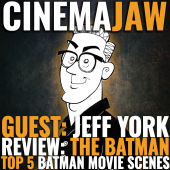 Update Required
To play the media you will need to either update your browser to a recent version or update your
Flash plugin
.
Review(s): The Batman
Celebrating This Month: Sandra Bullock
Batman Villians movie Trivia
CinemaWAR: Who is the best Catwoman – Pfifer or Kravits?
Sponsored by: Overcast
Here we are again, same bat-time, same bat-channel… It's time for what is essentially the CinemaJaw Batman Special!
Joining us is fellow critic, artist and bat-fanatic, Jeff York.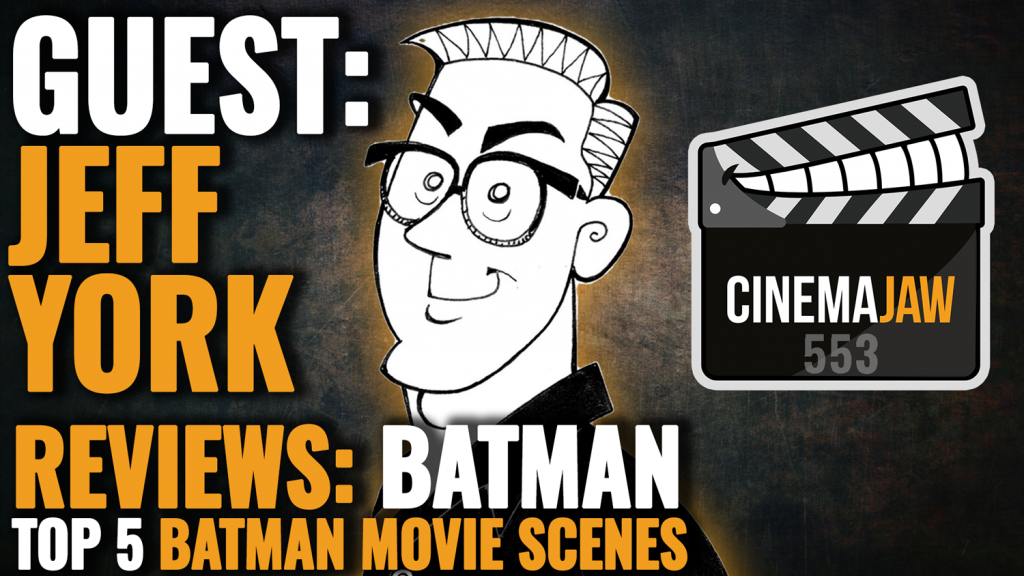 Friend of the show, Jeff York spent decades as a creative director in the world of Chicago advertising. He illustrated caricatures and cartoons for the Chicago Tribune for many years and continues to do so for various periodicals, everything from Playboy to W magazine, and of course, his own website The Establishing Shot. When Jeff's not writing reviews or screenplays you can find him on Instagram here.
If you're a Batman fan then you are in for a treat. Hop into your Bat-mobile and fire up the afterburner… It's time for a fresh CinemaJaw!
Top 5 Batman Movie Scenes
Matt:
5.) "Do You Bleed" – Batman V. Superman
4.) "SWEAR TO ME!" – Batman Begins
3.) Bane Breaks The Bat – The Dark Knight Rises
2.) "Let's Get Nuts" – Batman (1989)
1.) The Bank Heist – The Dark Knight
Jeff:
5.) The Teaser Trailer – Batman (1989)
4.) Catwoman Unmasked – Batman (1966)
3.) The Pencil Trick – The Dark Knight
2.) Living the Mask – Mask of the Phantasm
1.) Removing the Mask – Batman Returns
Ry:
5.) "I'm Batman" – Batman (1989)
4.) Home Alone – Lego Batman
3.) The Bank Heist – The Dark Knight
2.) Batmobile Chase – The Batman (2022)
1.) Lower Wacker – The Dark Knight