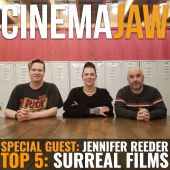 Update Required
To play the media you will need to either update your browser to a recent version or update your
Flash plugin
.
Reviewed: Downhill
Top 5: Surreal Films
CinemaWAR 2000: Which is the bigger Oscar snub from Y2k – Requiem for a Dream or American Psycho?
Trivia: Anne Hathaway, Ben Affleck, Willem Dafoe Trivia
Sponsored by: Overcast
Get ready for one of the best film conversations we have ever had on the show. Climb aboard the CinemaJaw podship, we are going on an odyssey, taking a deep dive into the very fabric of reality itself as we choose our Top 5 Surreal Movies. … Wait! There's the tunnel up ahead (I always hate this part of the journey).  There's no earthly way of knowing, Which direction we are going. There's no knowing where we're rowing, Or which way the river's flowing. Is it raining, is it snowing? Is a hurricane a-blowing? Not a speck of light is showing. So the danger must be growing. Are the fires of Hell a-glowing? Is the grisly reaper mowing? Yes, the danger must be growing! For the rowers keep on rowing! And they're certainly not showing! Any signs that they are slowing!!! Are your minds still intact? Ok great, because it's time to meet this week's guest.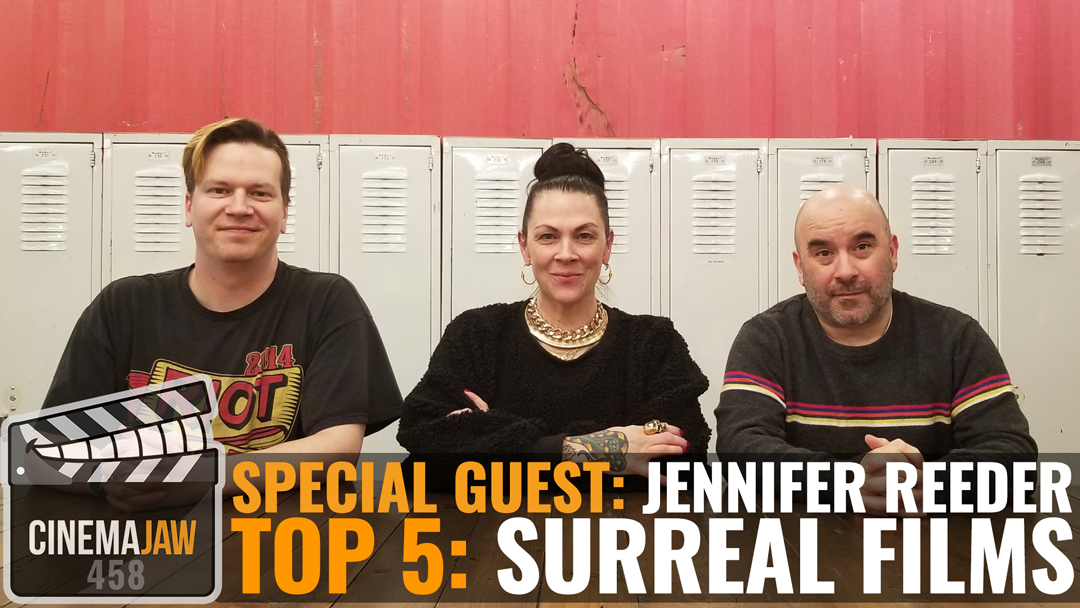 Jennifer Reeder is a Chicago based artist, filmmaker, screenwriter, and teacher. Although she might be a fresh name among the ranks of narrative feature film auteurs, Jennifer Reeder is not a newcomer to cinema, having built a well-established reputation as a creative artist with experimental work in the 1990s-early 2000s, marked by art gallery and museum exhibitions around the world, underground film festivals, reviews in leading art magazines. She's part of a wave of narrative filmmakers migrating from the visual art world, like Steve McQueen, Miranda July and, most recently, Rashid Johnson of "Native Son," who is a friend of Jennifer's from their days together in the Chicago art world. Currently her latest projet "Knives and Skin" is available on VOD platforms.
Part suburban nightmare, part neon-soaked teenage fever dream, Knives and Skin is a tantalizing mystery that traces the wave of fear and distrust that spreads across a small Midwestern town in the wake of a high school girl's mysterious disappearance. As the loneliness and darkness lurking beneath the veneer of everyday life gradually comes to light, a collective awakening seems to overcome the town's teenage girls—gathering in force until it can no longer be contained. Unfolding in a hallucinatory haze of lushly surreal images, Knives and Skin is a one-of-a-kind coming-of-age noir that haunts like a half-remembered dream. Hence our topic this week.
Jennifer Reeder is a growing voice in cinema that you should be aware of!
So if you're still on this trip tighten your seatbelt, pop in your earbuds and fly away to cinemaland.
Enjoy!
Matt:
5. Cemetary Man
4. Time Bandits
3. Being John Malkovich
2. Spirited Away
1. The Birds
Jennifer:
5. All That Jazz
4. Altered States
3. Julien Donkey Boy
2. Uncle Boonmee Who Can Recall His Past Lives
1. Lost Highway
Ry:
5. Science of Sleep
4. Neon Demon
3. Mother
2. Upstream Color
1. The Fall