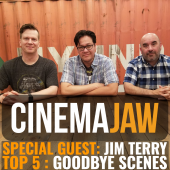 Update Required
To play the media you will need to either update your browser to a recent version or update your
Flash plugin
.
Reviewed: The Farewell
I for an I: Once Upon a Time in Hollywood
Trivia: Once Upon a Time in Hollywood cast trivia
CinemaWAR: Will the new Terminator film be good, or should we stick the pin back in the grenade?
Sponsored by: Overcast
For nearly a decade, CinemaJaw has been here for you. You've never had to say goodbye to this podcast for more than a week here and there. At the movies such is not the case. Characters are often forced to let go, move apart and otherwise say goodbye. This week on CinemaJaw, in honor of Lulu Wang's The Farewell, we take a look at the best goodbye scenes in film.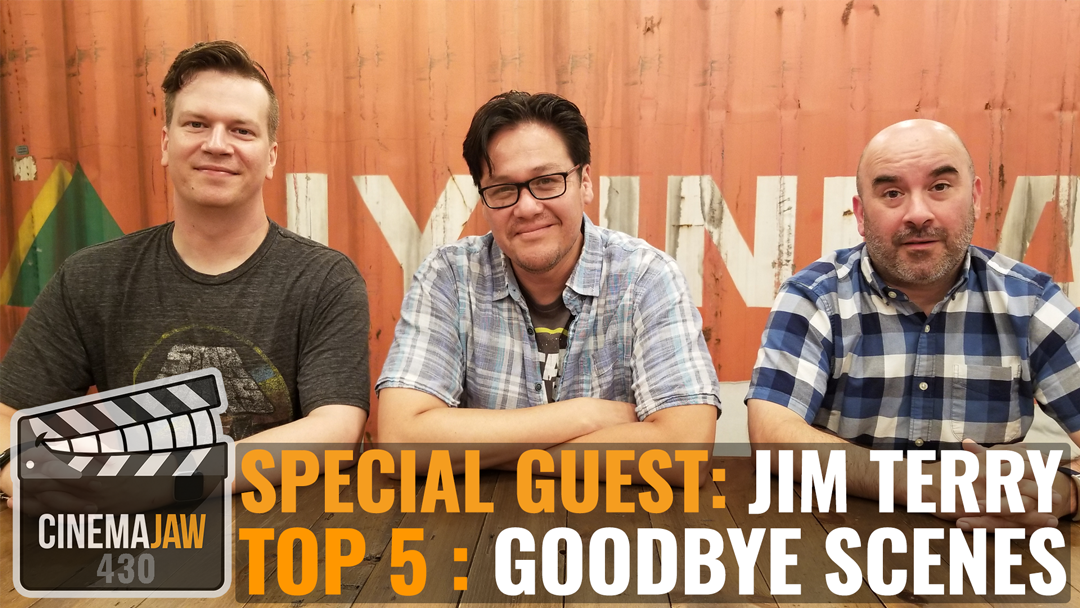 Joining us is a man we will never say goodbye to. Making his triumphant return to CinemaJaw, Jim Terry is back! JIM TERRY is a comic book artist who has worked on THE CROW: SKINNING THE WOLVES, SUNDOWNERS, ALICE COOPER VS. CHAOS, VAMPIRELLA and more. He has self-published a number of titles and is currently working on the next one. He lives in Chicago with his 4 cats. That's right, 4 cats.
So sit back and say hello to your favorite movies podcast!
Matt:
5.) I know now why you cry – T2
4.) Wilson drifts away – Castaway
3.) Are you satisfied with your care? – Big Hero Six
2.) I'll Be Right Here – E.T.
1.) Frankly my dear, I don't give a damn – Gone With the Wind
Jim:
5.) Are you gonna kiss – Big Trouble in Little China
4.) Max Disappears – Mad Max: Fury Road
3.) Mo Chuisle – Million Dollar Baby
2.) Continue – For Whom the Bell Tolls
1.) I will take care of them – Apocalypto
Ryan:
5.) Leaving for College – Boyhood
4.) Just a Girl – Eternal Sunshine of the Spotless Mind
3.) Transforming back – Big
2.) Boarding the Train – Before Sunrise
1.) The whisper – Lost in Translation
Links:
Jim's Art –
http://www.woundedbutdangerous.com/
https://jimterryart.bigcartel.com/
https://www.instagram.com/jim.terry.73/
Indigenous comic con –
https://www.indigenouscomiccon.com/tickets-page