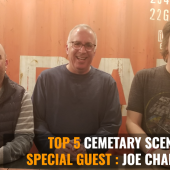 Update Required
To play the media you will need to either update your browser to a recent version or update your
Flash plugin
.
Reviewed this episode: Pet Semetary, Hellboy
Interested or Ignore: Red Joan
Trivia: Spy Movie Trivia
Sponsored by: Cards Against Humanity
We know it's only April, but it's been a very good month for horror. This week, we let the low fog roll about our ankles as it winds serpentine amongst the headstones. Eyes shining at us from the shadows cast by hulking mausoleums. The smell of moss and earth mix with fear… we are in the graveyards, in honor of Steven King Month here on CinemaJaw, we are exploring our Top 5 Cemetary Scenes!
Joining us is a man who's not afraid of an episode from the crypt.  Joe Chappelle is an American screenwriter, producer, and director of film and television. He is perhaps best known for his work on the critically acclaimed HBO series The Wire, where he directed six episodes and served as co-executive producer for three seasons. In 2018, his episode "Middle Ground" was named the 6th Best TV Episode of the Century by pop culture website The Ringer. He has also produced and directed several other popular cable television programs, including CSI: Miami, Fringe and Chicago Fire.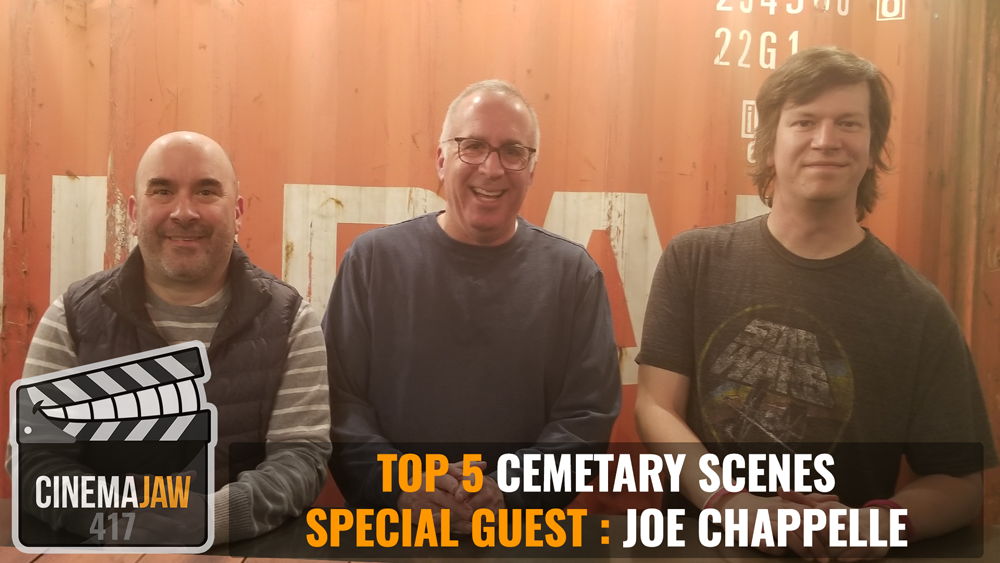 Recently Chappelle wrote and directed the political thriller An Acceptable Loss, starring Tika Sumpter and Jamie Lee Curtis, released by IFC Films in January. In addition, he has a new show that will be airing on Epix staring Forest Whitaker , Godfather of Harlem. Watch the trailer below.
What was that? Did you hear that noise? Did it sound like footsteps? Are they coming to get you Barbara, or is it just your imagination… Best to just relax and listen to this podcast instead of wondering about that shambling shape stumbling your direction.
Matt:
5.) Army of Darkness – Botched spell
4.) Dead Alive – Kung Fu Zombie Battle
3.) Heathers – Prayers for the Original Heather
2.) Live and Let Die – Opening Scene
1.) Cemetary Man – Creepy Decapitation
Joe:
5.) Night of the Living Dead – Opening Scene
4.) A Christmas Carol (1951) – Scrooge's Grave
3.) Internal Affairs / King of New York – Police Funerals
2.) The Good, The Bad and The Ugly – Shootout
1.) The Godfather – Don Corleone's Funeral
Ryan:
5.) Terminator 3 – Sarah's gravesite
4.) Hot Shots – PTSD Funeral
3.) Friday the 13th Pt 6: Jason Lives – Accidental Resurrection of Jason
2.) Kill Bill – Buried Alive
1.) Easy Rider – Acid Graveyard