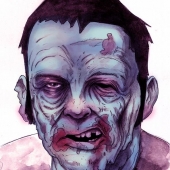 Update Required
To play the media you will need to either update your browser to a recent version or update your
Flash plugin
.
Reviewed This Episode: We Are The Best!
I for an I: Tammy
Trivia: Susan Sarandon / Melissa McCarthy Movie Trivia
CinemaWAR: Which director should get the next museam James Cameron or Steven Spielberg?
Sponsored by: Movies TV Shows Free, The Gospel Friends Podcast 
They're after you… the adrenaline sweats soak your dirty shirt, your heart is pounding like the beating dished out in THX-1138. You dart around one corner, a confrontation, you turn to escape and bump into another assailant. You are boxed in…. this is it… Or is it? You spot an open window leading into some dingy basement. Like a city rat you squeeze through the opening, ripping your shirt (this garment is ruined) and you escape. Still you remain On-The-Run!
There is no denying that when done well On The Run films can be some of the most "edge-of-your-seat" cinema that there is. We are captured and held hostage by the plight of the runner and hold our breath as he/she comes close to capture but somehow manages to elude the pursuant. In order to chase down this genre we need a man with good running shoes. Welcome Justin Zimmerman of Bricker Down Productions. Yes, his running shoes are great but he has much more than that going for him. Justin is a filmmaker, professor, author and comic book creator, just to name a few. His most recent project Safe is currently holding a Kickstarter and we highly encourage the JawHeads to check it out and lend their support!
Once we stop running, we have I for an I, CinemaWAR and all the crazyness you've come to love from the 'Jaw.
Now… RUN!