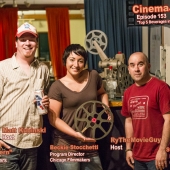 Update Required
To play the media you will need to either update your browser to a recent version or update your
Flash plugin
.
The First Stop On the CinemaJaw Summer Tour!
CinemaJaw is touring Chicago this Summer. Keep an eye on our twitter page for updates!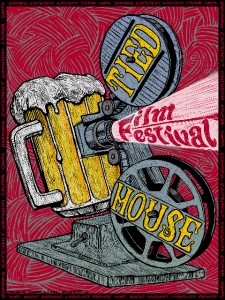 This week on CinemaJaw we quaff, imbibe, shoot, sip and guzzle the best Movie Drinks. These potions may or may not be alcoholic in nature,  indeed they may even be fictional or hypothetical, but all of them are movie stars! Made famous by the silver screen, we go round robin on our Top 5 Movie Drinks.
Joining us with locally brewed craft beverages in hand are Beckie Stocchetti & Steve Mosqeuda who head up Chicago Filmmakers and The Drinking & Writing Theater respectively. Beckie and Steve brought their lists of Movie Beverages and a whole lot of bubbly good times as well! We are doing all of this in honor of their recent collaboration on a very important film festival that takes place THIS WEEKEND at Chicago Filmmakers and Haymarket Brewery, The Tied House Film Festival. Presenting new work based on the mission "to explore the connection between creativity and alcohol."  The festival will showcase original short films approximately 5 – 10 minutes in length of any genre that investigate, extrapolate or involve one of the six stages of intoxication: euphoria, excitement, confusion, stupor, coma, and death.   The Drinking & Writing Theater, located at the Haymarket Pub and Brewery, strives to preserve the spirit of creativity and passion of the drinking artist. Best part of all… FREE BEER. Perhaps you didn't hear me so I will mention it again… FREE BEER at this Film Fest, well the portion that takes place at Chicago Filmmakers. You simply can not beat that!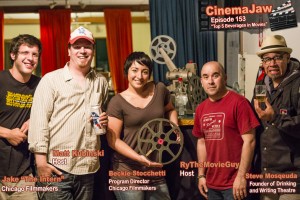 Also in this episode we discuss Man of Steel, have a CinemaWAR, play some trivia, review some movies and enjoy some fine beverages. Drink Up Johnny!
Reviewed this episode: Man of Steel, Kings of Summer
CinemaWAR: Who willhave the longer career, Channing Tatum or Mellissa McCarthy? 
I for an I: White house Down
Trivia: White House Movie Trivia