Rapid fire Louie like Rambo got bullets. I'm a gonna die harder like my man Bruce Willis!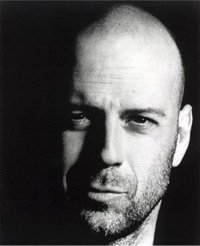 Since the days of Moonlighting, Mr. Walter "Bruce" Willis has entertained us with his acting. While he may not be Laurence Olivier, he has certainly had some amazing turns at  bat with hits like Die Hard, The Sixth Sense, Pulp Fiction, and many others. He has also had his fair share of duds, and a fair share of underrated films as well. This week on CinemaJaw, Matt K and Ry The Movie Guy are flying solo (no guest) and take an In Depth look at the man who would be John McClane, noting his Best, Worst and Most Underrated entries.
In addition to that, the boys cover the Nakatomi Plaza of usual segments: I for an I, Jaw-101, Reviews, and even manage to rope in Julie and Matt from the front bar to participate in CinemaWAR and Trivia. Yippee-ki-yay, m-f-er!
I for an I: Looper
Reviewed This Episode: In Darkness
CinemaWAR: Which Bruce is the bigger badass, Bruce Lee, or Bruce Willis?