A long time ago. In a galaxy far far away…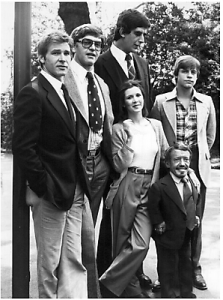 In what is sure to be a trilogy of Special Episodes (read: 6 part), we once again return to that galaxy far far away and take a look at our beloved Star Wars. It bears repeating, after all this year marks the 35th anniversary of Episode 4 A New Hope, the first of what would be come a long lasting cultural phenomenon. Star Wars has touched so many of our lives. Whether you were on board from Luke's igloo on Tattoinee or grew up eating Jar Jar cereal doesn't really matter, there is one common thread that connects us, it surrounds us and penetrates us, it binds the galaxy together. That thread is the love of Luke, Leia, Han and Chewy. The love of Star Wars.
Joining us once again aboard the Millennium Falcon of CinemaJaw is Star Wars expert, and Documentary Filmmaker Cris Macht. (Interestingly Chris shares a birthday, May 25,  with Star Wars and his last name, literally translated from German means Power, or… FORCE). You may remember Cris from our first Star Wars Special way back in episode 27. At that time he was touting his first film The Force Among Us. This time Cris is fresh off a successful Kickstarter campaign for his latest look at lightsaber lust, albeit a much more personal and emotional look, The Force Within Us. Chris is our co-pilot for the whole episode as we delve into the depths of this Sarlacc Pit.
All our greatest bits are covered. I for an I, CinemaWAR and a whole lot more. So enjoy this amazing episode of CinemaJaw, and May The Force Be With You!
I for an I: Prometheus
Reviewed This Episode: MIB3, Haywire, Albert Nobbs, The Woman in Black
CinemaWAR: Which is the cooler character, Han or Luke?