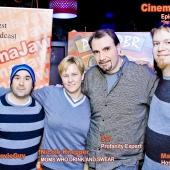 Update Required
To play the media you will need to either update your browser to a recent version or update your
Flash plugin
.
A warning! We DO swear much more than usual in this episode. Be advised.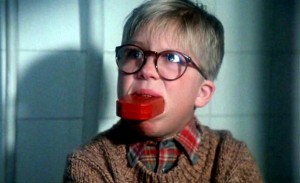 Profanity, it's not called "Anti-fanity" for a reason. There are generally two schools of thought on the topic of profanity in media. The first school think that it is highly offensive, and even dangerous, and more that it demonstrates a lack of creativity. We've all heard that a potty mouth is a substitution for strong vocabulary skills, the first school touts that argument. In a nut shell, some people don't like it. However the second school (which we attend here at CinemaJaw) believe that when used correctly profanity, verbal or otherwise, can be truly musical and add tremendously to a story worth telling. Not that it is always easy or fun to imbibe, but storytelling would be crippled without it. It's not all sunshine and roses out there and it's up to art to reflect that.
That's why this week on CinemaJaw we take a look at our Top 5 favorite Profane Movies. These are the films with an F-Bomb count in the triple digits, or the ones that employ a visual or thematic profanity that flies in the face of wheat is generally acceptable in society. We will need an expert in profanity to help us swear up and down, enter the "Queen of Cussin'" herself, Nicole Knepper of the hit blog Mom's Who Drink and Swear! Nicole and Profanity Consultant buddy Sal will help us buckle through the swash and crawl through a river of shit and come out clean on the other side.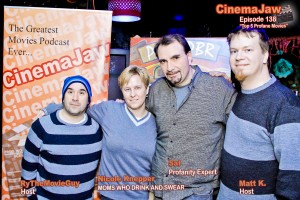 In addition to profanity, you will find us covering some great topics, trivia games, CinemaWAR and a whole lot more. So why the @#$!%& not listen?
I for an I: Bullet to the Head
Reviewed This Episode: Gangster Squad, Game Change
CinemaWAR: Who has had the better career, Sylvester Stallone or Arnold Schwarzenegger?
Trivia: Jodie Foster movie trivia