CinemaJaw 106, In Depth: John Woo w/guest Collin A. Bullock
Wednesday, March 28th, 2012 at 12:27 am
Woooo!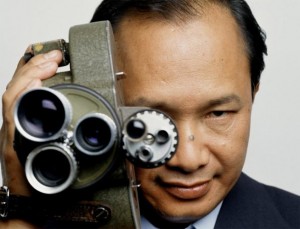 We have to admit it, we are a little out of our element when discussing the great John Woo. A beloved filmmaker from the East with legions of fans… two of which do not host this podcast. DON'T GET US WRONG! We do enjoy Mr. Woo's films and we respect his work, but we are no experts on the topic. Good thing we have an ace in the hole to help us.
Enter Mr. Collin A. Bullock. Chicago Stand-up Comedian and Podcaster extraordinaire! Collin is a HUGE fan of the Woo! In fact, it was he that suggested the topic, and since we love to get out of our comfort zone here on CinemaJaw… we bit. As has become tradition on our "In Depth" episodes, we go round robin on Woo's Best, Worst, and Most Underrated films. As well as discussing the man in general. We also talk to Collin about his podcast, play some trivia, read some headlines and debate a CinemaWAR! Its jam packed with Wooey goodness! Take a listen, will ya?
I for an I: Mirror Mirror, Wrath of the Titans
Reviewed This Episode: 13 Assassins, Puss In Boots
CinemaWAR: Is Jonah Hill an A-List actor or not?
Podcast: Play in new window | Download
Tagged with: 13 Assassins • Awkward Moments Pod • broad • Chicago • CinemaJaw • Collin A. Bullock • Collin Bullock • egen.tv • eGenTV • Evil Squirrel Comics • John Woo • Jonah Hill • Matt Kubinski • Mirror Mirror • Movie Reviews • Movies • Night Life • PBR • Puss In Boots • Reviews • Ry The Movie Guy • The New 400 Theaters • The Original Mothers • Wrath of the Titans
Filed under: episodes • In Depth • Special Guests
Like this post? Subscribe to my RSS feed and get loads more!