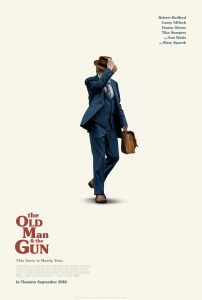 Robert Redford in his final role plays Forest Tucker a lifelong criminal and bank robber, but while he has always carried a gun, his main weapons are his unassuming charm, planning and strategy and raw charisma. Together with his "Over The Hill Gang" (two wonderful supporting roles from Danny Glover and Tom Waits) Forest is on a crime spree hitting larger and larger targets. Along the way, he meets Jewel (Sissy Spacek) and begins to fall in love. But can he settle down into old age, or is this old dog incapable of learning new tricks?
This film is a bit of a slow ride… but it is enjoyable throughout. I would compare it with riding slowly down a dreamy country lane on a 75-degree day. Wholey relaxing and pleasant. There is a bit of a cat and mouse element with Casey Affleck's, Detective John Hunt chasing the Over The Hill Gang, and a bit of a romance (a really good one) between Redford and Spacek's character. But, Old Man and the Gun is really at it's best when it considers the inner life of Forest Tucker and gets into his legend.
One small thing that bothered me, is that there is a slight balance problem between heist, age, romance, and cops and robbers. This movie has a lot going on for such a sleepy ride and at times it is a difficult mix. However mostly It pulls it off with grace, wich is more or less the M.O. of Forest Tucker – Style, Grace, and subtlety.
Matt K's Grade: 3 out of 4 Jaw-Stars