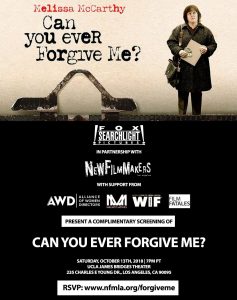 Melissa McCarthy has had some big box office hits, and equally big misses. Her latest film Can You Ever Forgive Me is a bit of a break in form. Can she succeed with a period biopic about a little-known writer turned criminal or will she just suck? I hit the Lake Street screening room to find out.
Melissa McCarthy plays the real-life Celebrity biographer Lee Israel, an acerbic, alcoholic and cat loving misanthrope. Isreal makes her living profiling the likes of Katharine Hepburn, and Estee Lauder, but hasn't had a hit in years. Her agent, a great extended cameo by Jane Curtain, doesn't even return her calls driving her deeper into booze, cats, and a general disdain for mankind at large. Not your typical McCarthy Character. When bills begin to pile up, and Lee faces eviction, and even worse… her bar tab, she turns to selling her personal letters from the famous people she had profiled. Along the way, she discovers a talent for forgery, deception, and an absolute lack of redeeming qualities, and dives headlong into a life of crime abetted by her only friend Jack.
Can You Ever Forgive Me is A delightful indulgence in misanthropy! Melissa McCarthy was perfect, and supporting role by Richard Grant was very Walken-esque and the gem of the movie. I liked it! I think the lack of redemption may turn some audiences off, and the film is a bit of a slow ride. I do think they could have played up a bit of the pressures of crime, and the threat of getting caught. However this is a minor complaint and by all acocounts it's just not how this true story transpired anyway.
This is a funny and dark movie about addiction, crime, detachment, and the value in refusing to apologize for who you are.
Ry The Movie Guy's Grade: 3 out of 4 Jaw-Stars