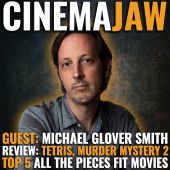 Update Required
To play the media you will need to either update your browser to a recent version or update your
Flash plugin
.
Reviewed: Tetris, Murder Mystery 2
Trivia: Movies That Just Fit Movie Trivia
Celebrating This Month: Kathy Bates
Like solving a puzzle, or creating a work of art… you take a step back and… that's it! All the pieces fit! This week on CinemaJaw we dive into Top 5 All The Pieces Fit Movies. In our use of the term, these are the movies that sound terrible on paper, but for some reason equal more than the sum of their parts and are unexpected successes!
We also take a look at 2 movies where all the pieces fit: Tetris (see what we did there?) and Murder Mystery 2 (did it there too)!
Joining us is guy who always makes all the pieces fit, Chicago indie film scene writer/director Michael Glover Smith.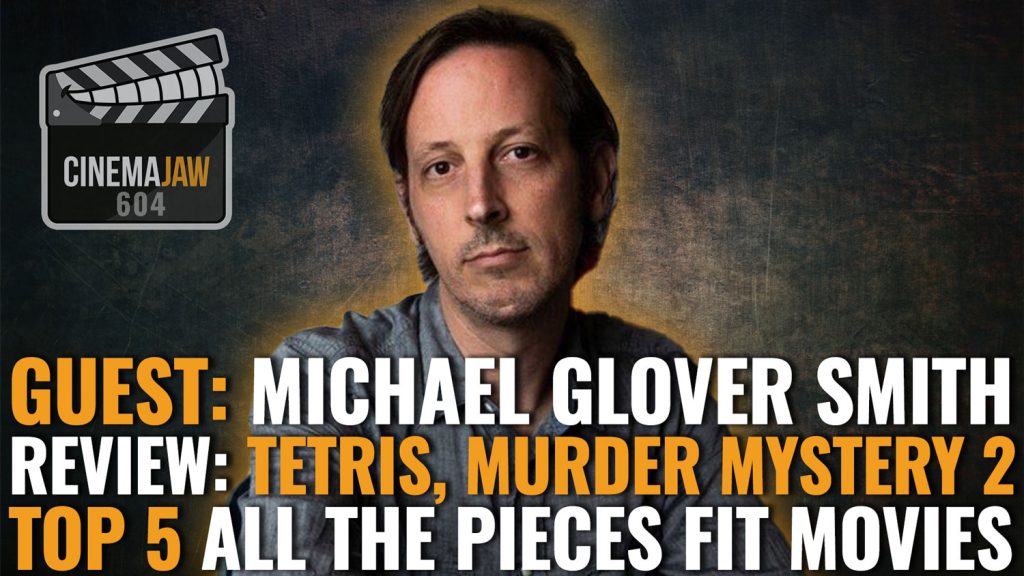 Michael Glover Smith wrote and directed the feature films COOL APOCALYPSE (2015), MERCURY IN RETROGRADE (2017), RENDEZVOUS IN CHICAGO (2018), and RELATIVE (2022), all of which won awards at festivals across the U.S. and were the subject of rave reviews. The Chicago Sun-Times' Richard Roeper wrote that "Smith has a deft touch for creating characters who look and sound like people we know" and RogerEbert.com's Matt Fagerholm has called him "one of the Windy City's finest filmmakers." His films have screened at the American Cinematheque and Rooftop Cinema Club in Los Angeles, Spectacle Theater and the Regal UA Midway in NYC and the Gene Siskel Film Center and Music Box Theater in Chicago. He made Newcity Chicago's "Film 50" list in 2018 and 2020 for being one of fifty individuals who "shape Chicago's film scene." He teaches film history at several colleges and is the author of FLICKERING EMPIRE (Columbia University Press, 2015), an acclaimed nonfiction book about film production in Chicago during the silent era.
His latest film PAPER PLANES  is about to celebrate its world premiere! is a short written by Alyssa Thordarson and co-directed by Alyssa, is a queer romantic comedy with a tinge of melancholy set in the holiday season. Ry and Matt both enjoyed this quick little gem quite a bit and highly recommend the less than 12 minutes it takes to view it if you can!
All the pieces of this podcast fit! Take a listen!
Top 5 All The Pieces Fit Movies
Matt:
5.) Jumanji: Welcome to the Jungle
4.) The Lego Movie
3.) 21 Jumpstreet
2.) Clue
1.) Bubba Ho-Tep
Michael:
5.) Being John Malkovich
4.) Skinamarink
3.) Groundhog Day
2.) Crash
1.) Jeanne Dielman
Ry:
5.) Ratatouille
4.) Pirates of the Caribbean
3.) 21 Jumpstreet
2.) Mrs. Doubtfire
1.) Mannequin