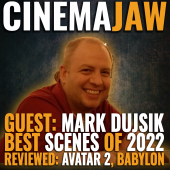 Update Required
To play the media you will need to either update your browser to a recent version or update your
Flash plugin
.
Reviewed: Avatar Way of the Water, Babylon
Trivia: 2022 Movie Trivia
Celebrating This Month: Robert Duvall
Sponsored by: Cracking the Code of Spy Movies Podcast
This week on CinemaJaw we continue our review of the year in film 2022, with perhaps the most prolific film critic there is, Mark Dujsik!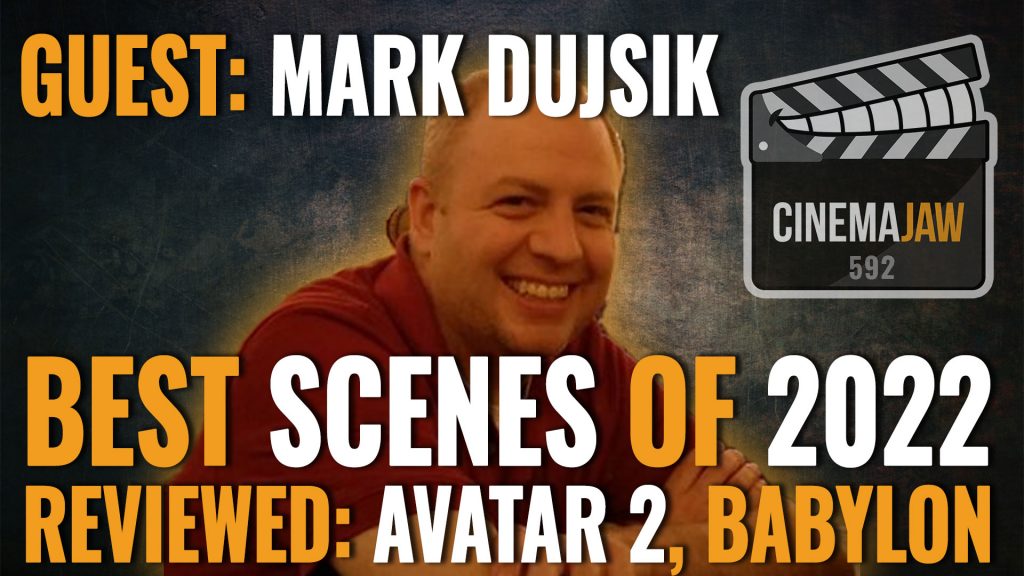 Mark watches over 500 movies annually so if there is anyone to check with regarding movies that may have slipped through the cracks, it's him! Our wrap-up of 2022 continues with our three lists of The Best Scenes of 2022. They may or may not be from our favorite films of the year. Doing scenes gives us an opportunity to shine a light on specific moments in movies that remind us about the magic, the emotion, and the wonder of our favorite art form.
In addition, we have a pair of reviews of Avatar The Way of the Water, and Babylon.
Happy New Year!
Matt:
5.) The Cheese Monger – Chip And Dale
4.) Paddington 2 – The Unbearable Weight of Massive Talent
3.) Beach Volleyball – Top Gun: Maverick
2.) Piggyback – RRR
1.) The Rock Scene – Everything Everywhere All At Once
Mark
5.) 5 Tons of Motivation – Official Competition
4.) The Rock Scene – Everything Everywhere All At Once
3.) The Bridge Rescue – RRR
2.) Under Pressure – Aftersun/The Last Run – The Quiet Girl
1.) The Escape – Athena
Ry:
5.) Batmobile Chase – The Batman
4.) The Birthing Scene – Men
3.) The Recording – Babylon
2.) Tar goes off on student – Tar
1.) Under Pressure – Aftersun