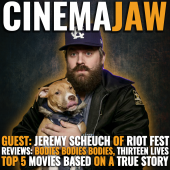 Update Required
To play the media you will need to either update your browser to a recent version or update your
Flash plugin
.
Review(s): Bodies Bodies Bodies, Thirteen Lives
Celebrating This Month: Ryan Gosling
Trivia: Viggo Mortensen Colin Farrell Movies
Sponsored by: Overcast, Underrated Podcast
Music Festival Season is in full effect, and our personal favorite here at CinemaJaw is Riot Fest! Matt K. and Fill Me In Pfil are both huge fans of punk and metal and Riot Fest offers a ton of that, and much more! Our favorite Riot Fest-er (and long-time recurring guest), Jeremy Scheuch compares the festival to a state fair mixed with a punk show… that about sums up our experience as well. Check out who's playing and get your tickets to Riot Fest here!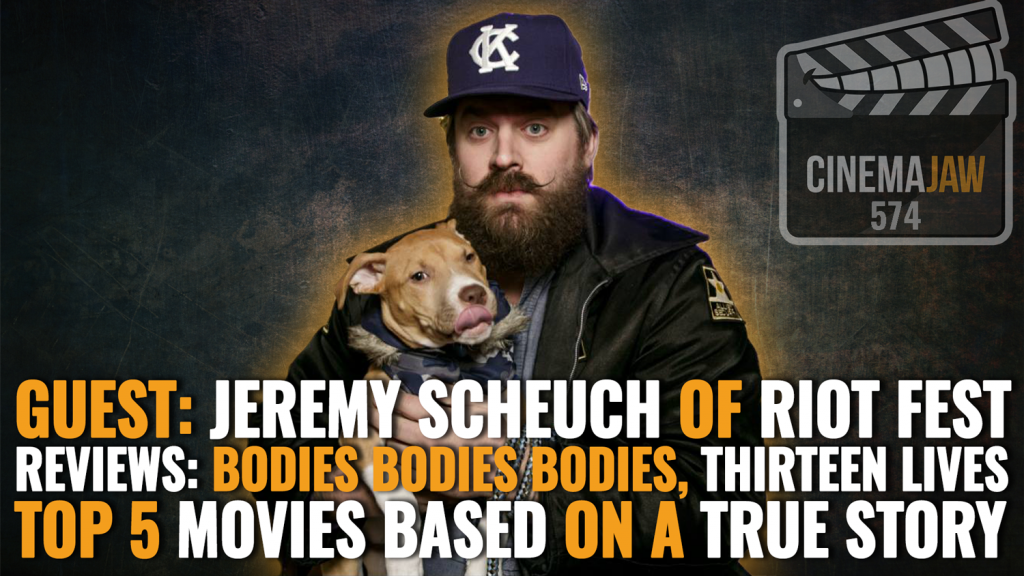 In honor of our review of Ron Howard's latest, Thirteen Lives, we tackle to the Top 5 topic we are shocked to say that it's taken twelve years to get to… True Stories.
Plus a review of Bodies Bodies Bodies to boot. It's a jam packed jaw as always!
So stick it in your ear and turn it up!
Top 5 Movies Based on a True Story
Matt:
5.) The Farewell
4.) Can You Ever Forgive Me
3.) Zodiac
2.) Nomadland
1.) The Big Short
Jeremy:
5.) Catch Me If You Can
4.) I Tonya
3.) Moneyball
2.) A League of Their Own
1.) Goodfellas
Ry:
5.) Hotel Rwanda
4.) The Pianist
3.) Memories of a Murder
2.) Apollo 13
1.) All the President's Men