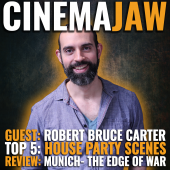 Update Required
To play the media you will need to either update your browser to a recent version or update your
Flash plugin
.
Top 5 House Parties in Film
Review(s): Munich – The Edge of War
Celebrating This Month: Roland Emmerich
Trivia: Disaster Movie Trivia
Sponsored by: Overcast
The dips and chips are set, the keg is tapped in the garage, texts have been sent and someone posted it all on snapchat…. it's time for a house party! Remember those?
This week on CinemaJaw we look at the debauchery of the House Party scene in many films. Though WAY less prevalent in today's media landscape the party was the ONLY goal for many a teenage romp of yore. In film, the scenes were over-the-top, exaggerated, and often amazing.
We are also reviewing a Netflix WWII picture, Munich – The Edge of War, because we love a good non sequitur.
Joining us is a guy who knows how to party, and knows how to make a film!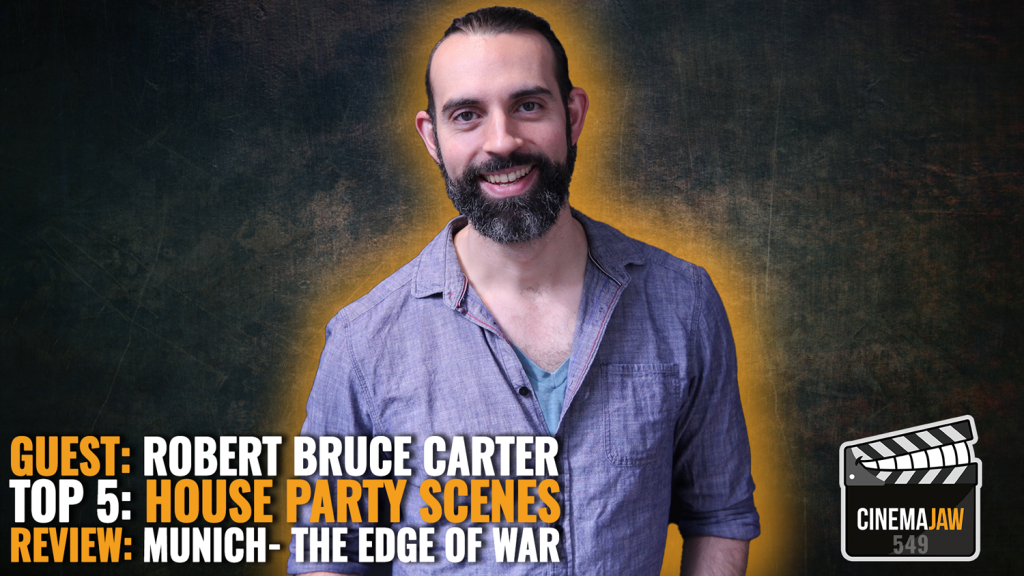 Robert Bruce Carter is a writer, director, and producer. Originally from Baltimore, he now lives in Los Angeles. After eight years of writing and performing comedy on stage in Chicago, he transitioned to film in 2015. He makes comedy films that are playful, satirical, and often dark or absurd.
His latest project is An Exquisite Meal, a feature-length dark comedy thriller about a dinner party gone wrong. It premiered at Cinequest 2020 and was released publicly in December 2021. You all should check it out!
So crank up the volume and open the doors of your mind… its time for a house party in your brain.
Matt:
5.) Don't Tell Mom the Babysitter's Dead
4.) Teen Wolf
3.) Eyes Wide Shut
2.) Booksmart
1.) 8th Grade
Robert:
5.) Grown Ups 2
4.) The Party (1968)
3.) The Celebration
2.) Wild Tales
1.) Dazed and Confused
Ry:
5.) Risky Business
4.) Boogie Nights
3.) Bachelor Party
2.) The Invitation
1.) Superbad