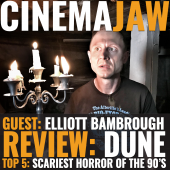 Update Required
To play the media you will need to either update your browser to a recent version or update your
Flash plugin
.
Reviewed: Dune
Top 5: Scariest 90's Horror
Trivia: Famous Horror Actor Trivia
Celebrating This Month: Wes Anderson
Sponsored by: Overcast
Welcome to the final installment of our exploration of the 1970s, '80s, and '90s scariest movies! This week, we are taking a look at the '90s! Mighty chain video stores were dominating the market, driving the mom and pops (sadly) out of town. Horror was a huge driver for the video rental market with many films skipping the traditional theater runs and going direct to video. We were transitioning away from VHS to the mighty DVD, and the internet was a strange and exciting new place to find all sorts of mayhem. The 1990s was the decade that Matt K. and Ry The Movie Guy grew up in… that should make it scary enough!
Joining us is horror fanatic, and television personality, Elliott Bambrough!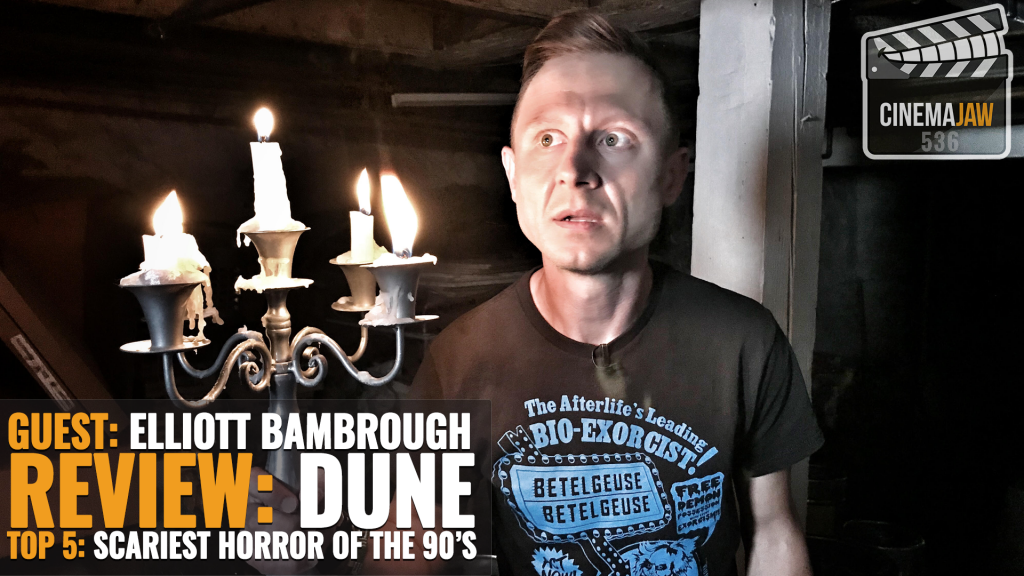 Soon Elliott will need more shelf space for all of his Emmys! Hailing from the vibrant melting pot of North London, he spent his most formative years studying theater, improv, and music, performing all over the UK. After venturing in front of the camera over a decade ago, as a contracted host on live national UK television, Elliott has also worked on various BBC Radio stations and with Traffic Radio London, prior to relocating permanently to Chicago in 2007. Most recently Elliott was the host of the long-running foodie show Chicago's Best. With many new projects in the works now is a most exciting time to follow Elliott! Who knows where he will pop up next! Maybe he's calling from INSIDE THE HOUSE!!!
We'll he's in OUR house anyway, for this episode of CinemaJaw Halloween Special III.
Listen!
Top 5 Scariest Horror of the 1990s
Matt:
5.) Flatliners
4.) It
3.) Jacob's Ladder
2.) Ringu
1.) The Exorist 3
Elliott:
5.) Alien 3
4.) Candyman
3.) Blaire Witch Project
2.) Event Horizon
1.) Audition
Ry:
5.) Stir of Echos
4.) Mimic
3.) Henry: Portrait of a Serial Killer
2.) Single White Female
1.) Silence of the Lambs