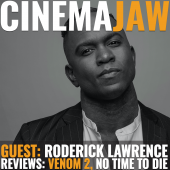 Update Required
To play the media you will need to either update your browser to a recent version or update your
Flash plugin
.
Reviewed: Venom Let There Be Carnage, James Bond No Time To Die
Trivia: James Bond Trivia
Celebrating This Month: Wes Anderson
Sponsored by: Overcast
Two big movies, and one big guest, and all of it is in-camera folks… no CGI here! Well Maybe a little.
This week, in honor of Venom: Let There Be Carnage, we take a look at our Top 3 CGI Characters in film. Joining us is a guy who always does his own stunts: Actor, writer, producer, Star of his new short film Silent Partner, Roderick Lawernce!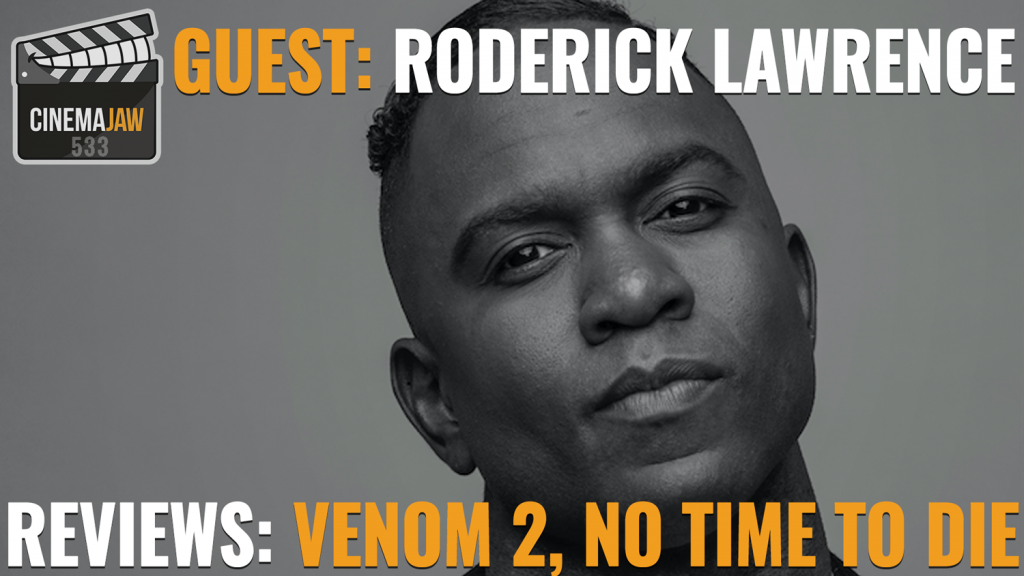 Created by and STARRING Roderick Lawrence and written/directed by Aristotle Torres, SILENT PARTNER follows an accomplished, Black trial attorney who was pressured into defending a white woman who was charged with murdering a Black teen by his white-shoe law firm. This topical film premiered at the Oscar-qualifying The Run&Shoot Martha's Vineyard African-American Film Festival.
Roderick is also the Co-Founder of Black Man Films. He is an unapologetic Blacktivist who helped start many Black Lives Matter initiatives in the Broadway and acting communities. He has been active with civil rights groups in his native Cleveland and NYC. A 2020 AUDELCO nominee, Roderick's credits include Simba in Disney's THE LION KING National Tour, Ramses in the Broadway-bound THE PRINCE OF EGYPT, and Othello in John Leguizamo's OTHELLO: THE REMIX.
SILENT PARTNER stars Roderick Lawrence (BROAD CITY), Kara Young (AMAZON'S CHEMICAL HEARTS), and the multiple Emmy-winning actor Michael Park (STRANGER THINGS). The stunning cinematography was created by Eric Branco (40-YEAR-OLD VERSION). The film is still in it's festival run, and you can find out where it will be at
www.silentpartner-film.com
Carnage, Bond, CGI, and rising stars! That's what a CinemaJaw is all about!
Plug in those earbuds!
Top 3 CGI Characters in Film
Matt:
3.) MCP – Tron
2.) Gollum – LOTR
1.) Hulk – MCU
Roderick:
3.) Neytiri – Avatar
2.) Caesar – Planet of the Apes
1.) Thanos – MCU
Ry The Movie Guy:
3.) Davy Jones – Pirates of the Caribbean
2.) Sandman – Spiderman 3
1.) T-1000 – T2