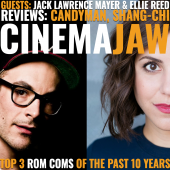 Update Required
To play the media you will need to either update your browser to a recent version or update your
Flash plugin
.
Reviewed: Shang-Chi, Candyman
Trivia: "Candy" Movie Trivia
Celebrating This Month: Adam Driver
Sponsored by: Overcast
Isn't it romantic? Our love affair with the movies? You know it is! But, what about Romantic movies, specifically Romantic Comedies, are they still the same as we remember, or has the genre changed irrevocably? This week on CinemaJaw we take a look at Rom Coms of the past 10 years and pick out our Top 3.
Joining us is a pair of filmmakers who know the subject. Jack Lawrence Mayer and Ellie Reed.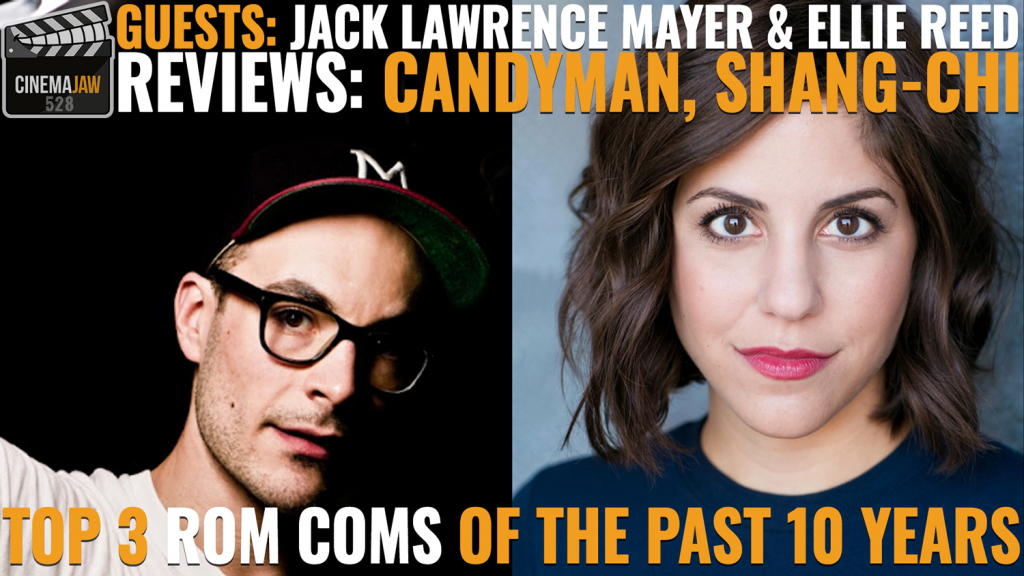 Their film, BIG HOUSE arrives on VOD on Tuesday, August 17 via Gravitas Ventures; written and directed by Jack Lawrence Mayer (HBO's Distance), the film stars Chicagoland native Ellie Reed (Brooklyn Nine-Nine; I Think You Should Leave; Girlboss) as one of two sisters who escape to their father's vacation home hoping for a chill birthday celebration. Or it would have been if not for the threesome, the love affair, the unexpected arrival of a fiancé, and the ensuing ridiculous dinner role play charade everyone is forced to participate in just to keep from getting caught. BIG HOUSE is an acutely observed human comedy about a pivotal weekend in the lives of six complicated people. The film arrives to rent/purchase on AppleTV and Amazon on August 17, with more platforms to come.
The trailer is online here: https://www.bighousemovie.com/trailer
In addition to the romance, we also have reviews of the latest from Marvel Studios, Shang-Chi and the Legend of the Ten Rings, as well as Nia DeCosta and Jordan Peele's latest fright, Candyman. It's a jam-packed Jaw as always!
So look into a mirror and say CinemaJaw 5 times… and we will pop up behind you to tell you what movies to watch.
Top 3 Rom Coms of the Past 10 Years
Matt:
3.) Warm Bodies
2.) Me, Earl, and the Dying Girl
1.) Scott Pilgrim Vs. The World
Jack:
3.) Obvious Child
2.) Moonrise Kingdom
1.) The Lobster
Ellie:
3.) About Time
2.) The Big Sick
1.) Palm Springs
Ryan:
3.) Crazy Rich Asians
2.) Enough Said
1.) Crazy Stupid Love