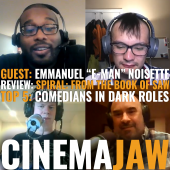 Update Required
To play the media you will need to either update your browser to a recent version or update your
Flash plugin
.
Reviewed: Spiral- From the Book of Saw
Trivia: Rock Movie Trivia
Monthly Celebration: Angelina Jolie
Sponsored by: Overcast
Usually comedians are called on to make us laugh. Perhaps precisely because of this expectation when we get a comedian in a dark role it can be particularly effective. This week on CinemaJaw in honor of the new film from the saw franchise that we are reviewing this week, Spiral, starring Chris Rock, we take a look at our Top 5 Comedians in Dark Roles.
Joining us is our good friend, fellow CIC critic, and a growing movie YouTuber – Emannuel "E-man" Noisette.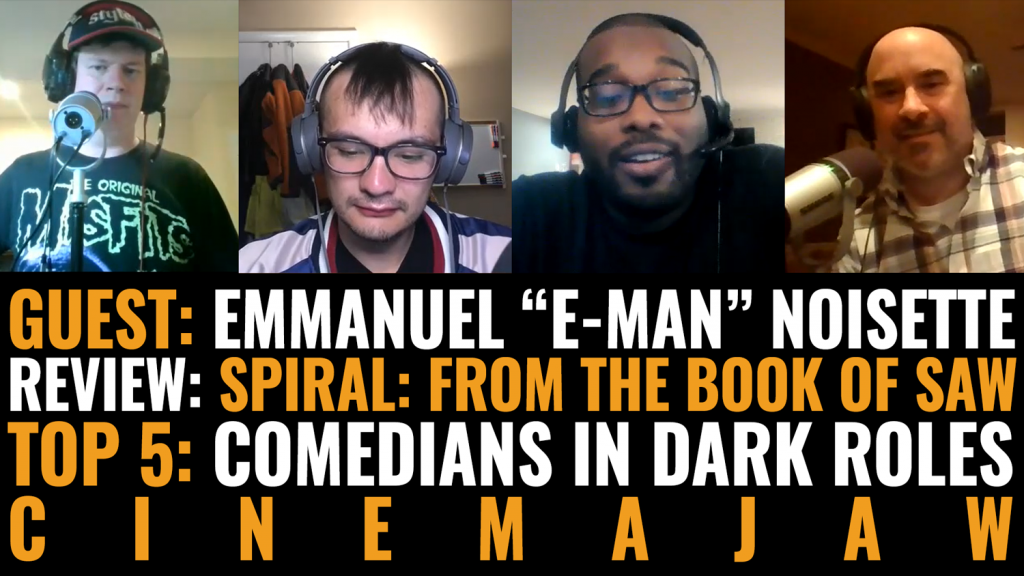 E-man has been writing movie reviews since 2012, and is the author and creator of EmansMovieReviews.com. Right now his YouTube channel is on the upward track! He seeks to be somewhat of an unconventional film critic. His unique style takes on the approach of making his reviews brief, concise, and spoiler-free. His mission is to help average moviegoers spend or save both their time and money with any given movie.
Top 5 Comedians in Dark Roles
Matt:
5.) Dan Akroyd – Grosse Pointe Blank
4.) Michael Keaton – Spider-Man Homecoming
3.) Steve Carrell – Foxcatcher
2.) Robin Williams – One Hour Photo
1.) Albert Brooks – Drive
E-Man:
5.) Jim Carrey – The Number 23
4.) Adam Sandler – Uncut Gems
3.) Monique – Precious
2.) Marlon Wayans – Requiem for a Dream
1.) Whoopi Goldberg – The Color Purple
Ryan:
5.) Kevin James – Becky
4.) Steve Martin – Little Shop of Horrors
3.) Sacha Baron Cohen – Sweeny Todd
2.) Kristin Wiig – Mother
1.) Monique – Precious
(sub: Adam Sandler – Punch Drunk Love)