Update Required
To play the media you will need to either update your browser to a recent version or update your
Flash plugin
.
Reviewed: The Social Dilemma, Antebellum
Top 5: Fall Movie Preview
Trivia: Dream Movie Trivia
Sponsored by: Overcast
The leaves are turning orange. Time for pumpkins, apples, jeans, boots, and football. It's time for CinemaJaw's annual Fall Movie Preview!
Joining us is a guest who has long been on our wish list.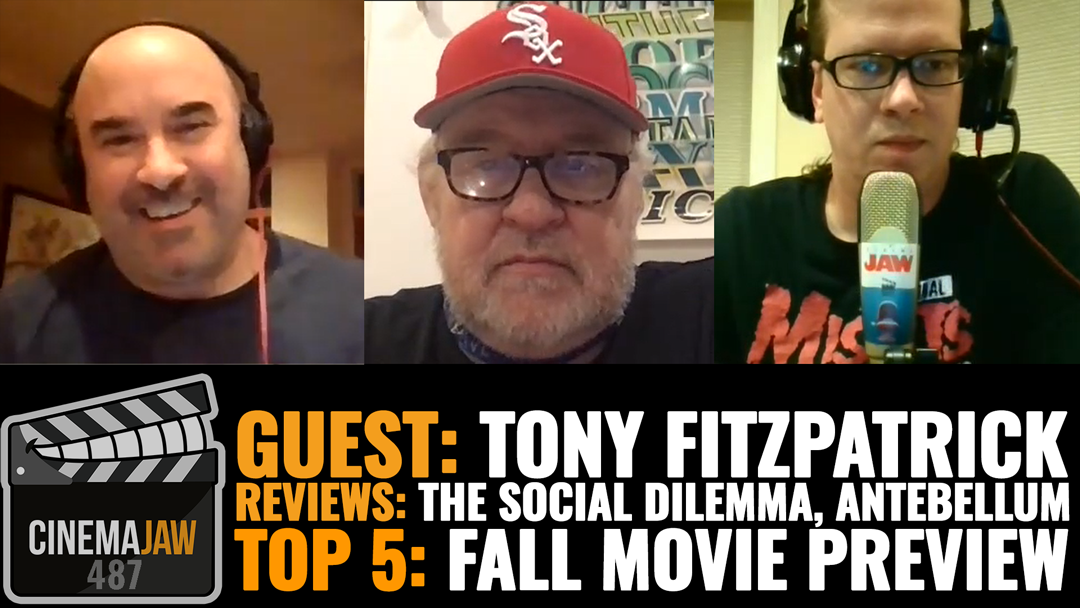 Tony Fitzpatrick is an actor, artist, and Chicago icon. He began seriously drawing with colored pencils on slate boards in a storefront gallery in the town of Villa Park, called The Edge. He worked by day and bartended at the bar across the street at night. During that time, he developed separate friendships with Chicago radio personality and bluesman Buzz Kilman and film director, Jonathan Demme. Demme and Kilman were longtime friends, and the three became close. As a result, Tony has appeared in a few of Demme's films and other films as well.
Tony's most recent role is in a film entitled Dreaming Grand Avenue, which also stars Jackson Rathbone (Twilight), Andrea Londo (Narcos), and Wendy Robie (Twin Peaks), Dreaming Grand Avenue is a journey through unresolved losses and haunted pasts to uncover the potential of dreams yet to be realized. Filmed entirely in Chicago, a city with big dreams of its own, Dreaming Grand Avenue was written and directed by Hugh Schulze and produced by NewCity's Chicago Film Project (Signature Move, Knives and Skin).
The cast and crew of Dreaming Grand Avenue are excited to be attending their world premier Wednesday, September 23, 7:00 PM – 10:00 PM CDT at the ChiTown Movies Drive-In (2343 South Throop Street), with a second 10pm showing recently added!
Check here for tickets to the premier that will feature writer/director and cast appearing for red carpet and live Q&A!