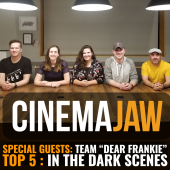 Update Required
To play the media you will need to either update your browser to a recent version or update your
Flash plugin
.
Reviewed: Crawl, The Big Hack 
I for an I: Scary Stories to Tell in the Dark
Trivia: Kitchen Cast Movie Trivia
Sponsored by: Overcast
Darkness. Imprisoning me. All that I see. Absolute horror. Those lyrics pretty much sum up what is more or less a universal and primal fear. The fear of the dark. While and obvious in horror films, darkness is used in every genre for various emotional and temporal effect. It has been used in comedy to illustrate a comical lack of information and it has been used in drama to illustrate a dramatic lack of information. Darkness hides the truth from us, and veils threats. It is a fantastic almost "negative space" for filmmakers to work with. This week on CinemaJaw, in honor of the upcoming film Scary Stories to Tell in the Dark, we take a look at our favorite scenes that take place in darkness.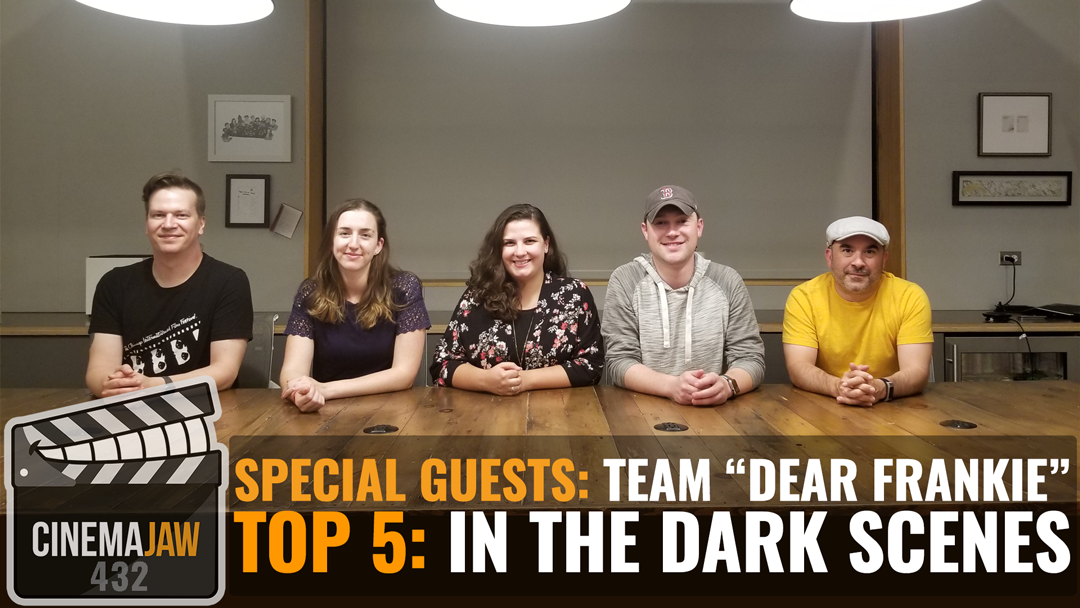 Joining us are some fine folks who bring some sunshine. Megan Marie Connolly and Claudia Krogmeier, together with producer Nate Gilbert brought their individual styles to the table and blended them to make "Dear Frankie." Megan Marie seeks to make audiences slightly uncomfortable in her emotional dramas that are never as simple as black or white. Claudia's unique and experimental tastes help to push her projects to new heights. "Dear Frankie" was originally written as a domestic dispute culminating in a violent encounter between two women in their home, involving long takes and characters frozen in place. With Megan Marie's personal experience on the subject matter, the film came together as a heartfelt piece about a corroded friendship and the halting nature of healing and acceptance. The global super 8 competition Straight 8 provided an excellent opportunity to bring this story to life through film, and a way in which to grow stronger in the art of pre-production and purposeful pacing of our story. Straight 8 challenges filmmakers to tell a story on a single cartridge of super 8 with no editing and no post-production. After this challenging exercise, in which they were honored as Straight 8 finalists at the 71st Cannes Film Festival, they found that this personal, unique story had an extraordinary impact on audiences. Audiences can watch this film multiple times and still learn something new during each screening. So they decided to strike out on a festival run that has led to inpressive results!
So light a candle, turn on a lantern, stoke the fire… Don't be afraid of the dark. Here we go!
Matt:
5.) Night falls – 30 Days of Night
4.) "I'm in the dark here!" – Scent of a Woman
3.) Buffalo Bill – Silence of the Lambs
2.) Triple Sunset – Pitch Black
1.) Afraid of the Dark – Blaire Witch Proejct
Megan, Nate and Claudia:
5.) Opening Scene – Jaws
4.) Motion Sensors – Lights Out
3.) The Bell Tower – Vertigo
2.) Playing A Game – El Orphanto
1.) Meeting the T Rex – Jurassic Park
Ry:
5.) The Flashlight Dies – 47 Meters Down
4.) Sunset – Sicario
3.) Nightvision and Axes – Snowpiercer
2.) Conclusion – Birdbox
1.) Power's Out – Don't Breathe