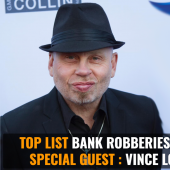 Update Required
To play the media you will need to either update your browser to a recent version or update your
Flash plugin
.
Reviewed this episode: Stockholm, Longshot
Interested or Ignore: The Hustle
Trivia: Anne Hathaway Castmate Movie trivia
Sponsored by: Overcast
Put some stockings on your head and let's go over the blueprints one more time, it's time for CinemaJaw to pull a bank job! This week, in honor of the new film Stockholm we are hitting the vault for our favorite Bank Robbery Scenes. Since the Old West, people have been fascinated with bank robberies. The line between hero and villian is often skewed in this unique sub-genre. In a good example, we can understand the motivations with deep empathy, and the outlaw devil-may-care attitudes of the robbers are even romanticized for better or for worse. Everyone loves a good bank robbery scene – so here are our favorites.
Joining us is a guy who could easily be our wheelman, Vince Lozano.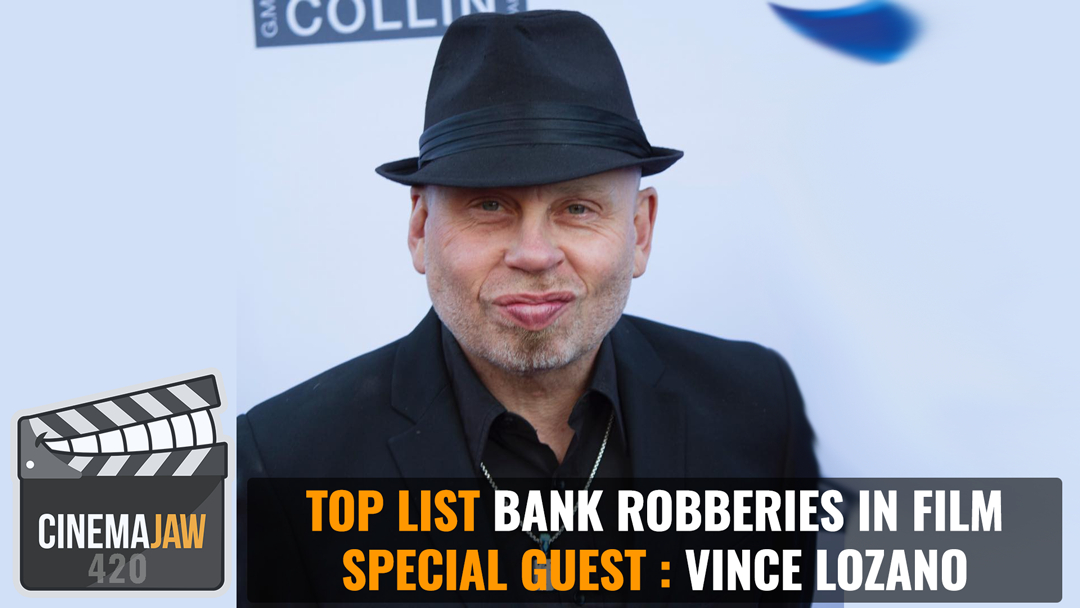 Vince Lozano was born and raised in Cleveland, Ohio. Constant overachiever and always the underdog he was always proving people wrong when they would say he was too short or too small. He carried that passion into street dancing which led to becoming an actor. At the age of 18 he did his first play at the Cleveland Public Theater with one line and doing a crazy dance. He found a new passion and a new love, which was acting. He has now appeared in numerous movies, television shows and commercials. His film credits include ED TV, Father of the Bride 2, Darkwolf, Born and Pirates of the Caribbean. Lozano made his motion picture debut in Encino Man. On television Lozano has appeared on such popular series as Dragnet, Becker, Naked Truth, E.R., Wanted, 10-8 and Wings.
His current project Acts of Desperation is available now wherever fine movies are viewed at home.
That's it. We have 30 seconds to get in and out. Our getaway car is waiting. The driver is wearing earbuds… we can only assume he is listening to this podcast!
Top 5 Bank Robberies in Film
Matt:
5.) Baby Driver – The Opening Getaway
4.) Point Break – Presidential impressions
3.) Heat – Intense Heist
2.) Old Man with the Gun – Deceptively nice old man
1.) Killing Zoe – The Whole Movie
Vince:
5.) The Town – Nun Heist
4.) Point Break – Change the routine
3.) The Killing – The Race Track
2.) Heat – Intense Heist
1.) Dog Day Afternoon – Al Pacino and John Cazale
Ryan:
5.) Destroyer – Surprise Robbery
4.) Out of Sight – My Partner will kill your manager
3.) Take the Money and Run – Bad Handwriting
2.) The Dark Knight – Joker's Bank Robbery
1.) Inside Man – Painter's Outfit
Links:
Acts of Despairation –
https://www.amazon.com/Acts-Desperation-Paul-Sorvino/dp/B07PNLSBCW
Social –
https://twitter.com/vincelozano?ref_src=twsrc%5Egoogle%7Ctwcamp%5Eserp%7Ctwgr%5Eauthor
https://www.instagram.com/vincelozanopage/
https://www.facebook.com/VinceLozanoActor/