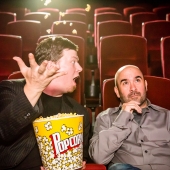 Update Required
To play the media you will need to either update your browser to a recent version or update your
Flash plugin
.
Reviewed this episode: Mid 90's, Can You Ever Forgive Me
I for an I (Interested or Ignore): Hunter Killer
Trivia: "Hunt" movie trivia
Sponsored by: Overcast
The 90's were one hell of a decade for film. Arguably the beginning of the end of the second major era of film, and the beginning of the modern era. We can point to films like Shawshank Redemption, Pulp Fiction, The Matrix… I could go on, major heavy hitters that changed the film landscape! But, there were just so many 90's films that were undersung, underappreciated, and yes, underrated. This week on CinemaJaw we head down the darker back isles of the Blockbuster Video to try and unearth those lesser known pics.
Joining us is a man who is ready for this stunt! Stunt Person Matthew Rugetti. Rugetti is known for his work on Wonder Woman, 300, Watchmen and the list goes on with major stunt credits in both TV and Film. We delve into what it takes to be a stunt person in the modern digital era, and how he prepares himself for stunts. It's a pretty interesting look at what is perhaps and underrated part of filmmaking.
So buckle in. Make sure your harness is snug… we are going back in time!
Listen:
Top 5 Underrated 90's Movies
Matt:
5.) Mystery Men – 1999
4.) Sneakers – 1992
3.) Tremours – 1990
2.) Mallrats – 1995
1.) Gross Pointe Blank – 1997
Ryan:
5.) Tree's Lounge – 1996
4.) Box Full of Moonlight – 1996
3.) Go – 1999
2.) Miller's Crossing – 1990
1.) Gattaca – 1997