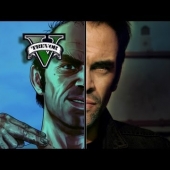 Update Required
To play the media you will need to either update your browser to a recent version or update your
Flash plugin
.
I for an I: The Grand Budapest Hotel 
Trivia: Wes Anderson Movie Trivia
CinemaWAR: Should the Watchowskis make anouther Matrix film?
"It puts the lotion in the basket", "I'm your number one fan!", "heeere's Johnnny!" If these quotes terrify you, then you're not alone. Seeing psychopathy portrayed on the silver screen can be a harrowing and fascinating experience. Just like the crash on the highway that we do not want to look at, but at the same time can not look away from, psychos have captured our attention and seeped into our nightmares. That is why this week on CinemaJaw we are taking a look at our Top 5 Movie Psychopaths.
Joining us on this journey to the dark corners, is a man who is well known for his turn as the psycho, the character Trevor in the massively successful video game Grand Theft Auto V, actor Steven Ogg. Who better than the man behind the deranged and murderous lunatic that we all love to take on joy rides in GTAV to help us pick out the best movie psychos? No one.  In case you didn't know Steven was born and raised in Calgary, Alberta, Canada and had his acting debut with the National Film Board of Canada, he will be in the upcoming film by Justin Zimmerman, Safe, and is one hell of a cool dude! Seriously, after hours and hours spent playing Trevor and basking in Stevens amazing acting and performance as the character, getting to talk to him was a real treat. Thank you Steven for joining us, and JawHeads we know you will enjoy this episode… or else we will find you…