Take a look, it's in a book…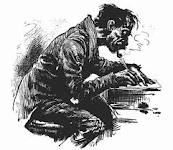 Writers, those tortured souls, have managed to work themselves into their stories since pen first hit paper. The Movies are no different. It's all quite meta, and it happens in every genre: Comedy, Action, Horror, etc. These are the movies about writers and this week on CinemaJaw we pick our top 5!
Joining us on this literary quest is none other than RedEye Columnist and writer extraordinaire, Mr. Stephen Markley! Stephen helps us choose our top 5 and even drops the science on his latest project in what is another CINEMAJAW EXCLUSIVE!
Also ever-present are our usual line up of great segments. So take a listen, then go read a book!