We're on a mission from God.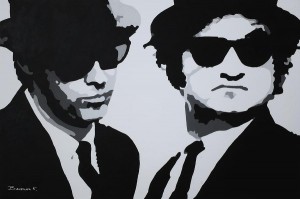 CinemaJaw likes to think of itself as a worldly podcast. We watch plenty of foreign film, and even stuff from L.A., yet there is something special about watching a movie (a really really cool movie) that was filmed right in your own backyard. Of course for us that  is Sweet Home Chicago.
Chicago has been the scene for a number of very important films from the silent era straight up to last Summer, with no end in sight. Filmmakers are drawn to its beauty, grit, infrastructure and a host of other amenities that make this a great city to make a movie in. So this week on CinemaJaw we take a look at our Favorite Chicago Scenes. Mind you NOT just Chicago Movies as we discussed over 100 episodes ago with Kathy Byrne. The films we are talking about do not HAVE to be filmed completely in Chicago, though many are, they just have to use the city and it's character in a pivotal and memorable scene.
We will need a tour guide on this mission. Someone who can navigate this bus through the many many famous landmarks of Chicago Scenes and give us some wisdom on the way… Who better than Patrick McDonald of the Chicago Film Tour? No one. He is the best. Patrick is also a writer at the wonderful movies blog HollywoodChicago.com and has had some amazing experience in the film industry. What a great guest.
In addition to that we will make the usual stops on this tour, I for an I, CinemaWAR, Trivia, and a whole lot more. It's my kind of town!
I for an I: Ted
Reviewed This Episode: Madagascar 3, The Skin I live In, The Artist
CinemaWAR: Is Adam Sandler's careers washed up?