I am Jack's movies podcast.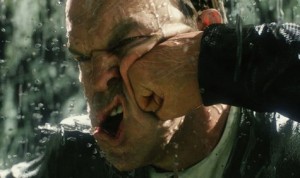 Conflict, troth, engagement, scrap, scuffle, fistacuffs… fighting. In fact, no story is a good story without strife of some kind. It's the backbone of the three act structure. Conflict, resolution. Repeat if necessary. This week on CinemaJaw, in honor of our hockey loving guest and Chicago media personality, Pogo (Q101, Metromix TV), we explore the very best fight scenes in film. In our humble opinions. Don't like it? You want some of this??
The boys also throw down the usual power-play segments while other podcasts just simmer in the penalty box: I for an I, CinemaWAR, Trivia, Hollywood Headlines, Reviews and a whole lot more! Come get some!
I for an I: Hunger Games
Reviewed This Episode: Take Shelter, Waste Land
CinemaWAR: Which is a better dystopian future film, The Matrix or Blade Runner?