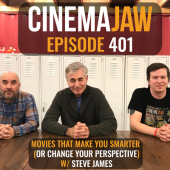 Update Required
To play the media you will need to either update your browser to a recent version or update your
Flash plugin
.
Reviewed this episode: Spider-Man Into the Spider-verse
I for an I: If Beale Street Could Talk
Trivia: 'Street' Movie Trivia
Sponsored by: Jackbox Games
Usually, I lead off these posts with a little preamble about the topic of the week and then segue into who the guest is and how we tied in that topic… This week it goes in the opposite order. Steve James is an Oscar-nominated filmmaker and documentarian. You should all be familiar with his work, but just to reiterate, Steve is known for The Interrupters, Abacus: Small Enough To Jail, Life Itself, Hoop Dreams and his latest docu-series America To Me (just to name a few). He also happens to be a guest we have long wanted on the show. Very happy to finally welcome Steve James to our guest roster!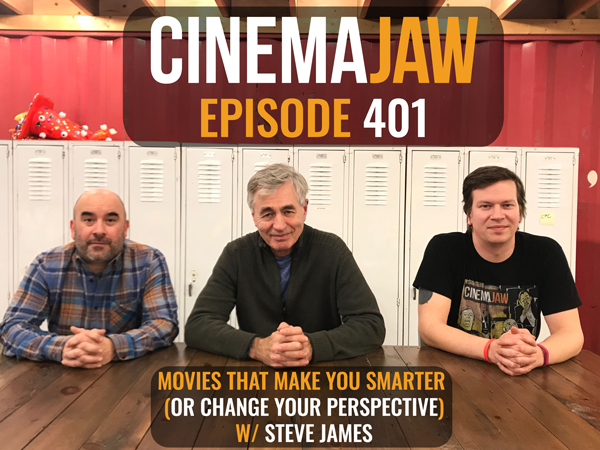 So what do you talk about with a Steve James (aside from his decades of hit documentaries)? Well… Movies That Make You Smarter (Or Change Your Perspective) of course! Since Steve is a guy who has made so many illuminating and thought-provoking films, we decided this would be the perfect topic to cover with him. Great conversation ensues!
So get our a pencil and pad JawHeads, and take some notes… You just might learn something!
Top 5 Movies That Make You Smarter (Or Change Your Perspective)
Matt:
5.) Interstellar
4.) Super Size Me
3.) Thank you for Smoking
2.) Primer
1.) 13th
Steve:
(Steve's list is in no particular order)
e.) Bisbee 17
d.) 2001: A Space Odyssey
c.) Moonlight
b.) Le Joli Mai
a.) Ex Machina
Ry:
5.) The Soloist
4.) Where to Invade Next
3.) The Invisible War
2.) Short Term 12
1.) Inside Job