CinemaJaw 107, Best Dystopian Films w/guest Jonathan Fin
Tuesday, April 3rd, 2012 at 7:54 pm
Smile… You're on Candid Camera!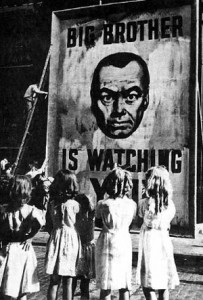 Throughout the years a particularly haunting genre of film has resurfaced time and time again, most recently with The Hunger Games… Dystopian Films. Usually a subgenre of Science Fiction, dystopian Films typically depict a demoralized, dehumanized and subjugated society. Obviously themes vary wildly from entry to entry, but we here at CinemaJaw find these movies to be some of the most thought-provoking, harrowing, and beautiful films out there. So this week we will all choose our top 5. And to fight this fight we need a hero (or a guest). A man with no fear, a revolutionary, a renascence man… But we got Jonathan Fin.
Of course we kid. Jonathan is all those things listed above and more. He is a stand-up comedian, a filmmaker, a musician, a writer and a radio host. He truly is Chicago's own renascence man and one of the most creative spirits that we've had on the show! So with Jonathan's help we plunge into the dark void of dystopia. Pray we make it out alive… and not drunk.
To protect us on our journey are the ever present and tried-and-true segments: I for and I, Hollywood Headlines, CinemaWAR, Reviews, Trivia and a whole lot more. This episode is your mandatory medication, and remember… CinemaJaw is watching you…
I for an I: American Reunion
Reviewed This Episode: The Hunger Games, The Muppets
CinemaWAR: Is Titanic a good film? or over hyped?
Podcast: Play in new window | Download
Tagged with: American Reunion • Broadcast Bar • Chicago • CinemaJaw • Dystopian Films • egen.tv • eGenTV • Is Titanic a good film? • jonathan fin • Matt Kubinski • Movie Reviews • Movies • Night Life • Reviews • Ry The Movie Guy • The Best Dystopian Films • The Hunger Games • The Muppets • The New 400 Theaters
Filed under: episodes • Special Guests
Like this post? Subscribe to my RSS feed and get loads more!