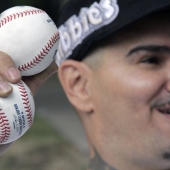 Update Required
To play the media you will need to either update your browser to a recent version or update your
Flash plugin
.
Take me out to the ballgame…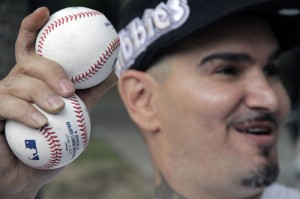 Bring out your peanuts and crackerjack, because this week on CinemaJaw we take you out to the ballgame! Of course we are talking about The Best Baseball Movies, one of our most requested topics. Sports movies in general can be very emotionally evocative, but none more so (in our opinion) than Baseball Movies. There is something about that magical diamond that harkens back to childhood and that special relationship we had with the sport. Weather it was collecting bubble gum cards, playing catch with your old man, or especially watching movies, baseball creeps into our lives and teaches us some important life lessons.
Who better to umpire this CinemaJaw at-bat than a man who has lived among the ballhawks outside Wrigley field vying for homerun balls whacked out of that famous confines. A man who made a documentary  film about the many characters and friends he made and their experiences chasing balls and chasing dreams. I am speaking of Director Mike Diedrich, whos film Ballhawks (which you can rent now on YouTube) was recently added to the permanent film collection at Cooperstown. You'll hear about that, all about his film, about the ballhawks themselves, and of course Mike's Best Baseball Movie picks in this episode, the bases are loaded here!
Plus we have the usual starting line up of slugger segments: I for an I, Trivia, CinemaWAR, Hollywood Headlines and much more! This episode is a grand slam!
I for an I: Dark Shadows
Reviewed This Episode: The Guard, Tinker Taylor Soldier Spy
CinemaWAR: Which is a better Director/Actor collaboration: De Nero/Scorsese or Burton/Depp?