The Dude Abides.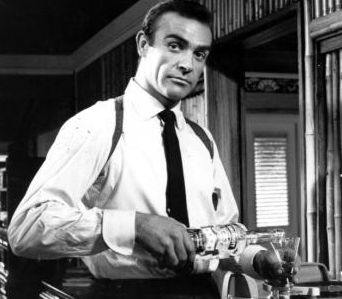 You've done it, we've done it, everyone's done it. Drinkin' at the movies. Whether you are out at the theater or home on your couch, sometimes cocktails can be paired with a movie just as well as a fine wine with a gourmet dish. Perhaps even better. So this week on CinemaJaw the boys join up with some girls: the spirits aficionados, Alice & Rabbit, from the hit Chicago booze blog Through The Liquor Glass. Together this shaken-not-stirred panel discuss their favorite Booze Movies, and perhaps a recipe or two. These are the flicks that follow the light and/or dark side of the imbiber. Bar flies, booze hounds, raging alcoholics and lovable drunks are all represented in film and our team explores them all. Beers are spilled, trivia is played, top 5's are shared! A notable fact about this episode: even with 4 panel members there was no crossover on any lists, meaning 20 movies are touched upon in the top 5 segment! Alice and Rabbit even paired thier Top 5 lists with cocktails!  This was a (burp!) great (hic!) episode!
MAJOR ANNOUNCEMENT! : You dont have to sneak your booze in to the theater at CinemaJaws newest sponsor The New 400 Theaters in Rodgers Park. Enjoy a great selection of fine adult beverages from thier full bar! Check them out online or at 6746 N. SHERIDAN RD., CHICAGO, IL 60626,  773.856.5977



I for an I: Thor, The Beaver
Reviewed This Episode: the Chronicles of Narnia, Source Code, Inside Job, (hidden Gem) Cairo Time
Special thanks to @PBR_Chicago for showing up in support of the show!
Right click on "download", choose "save link as", pick a place to save it.