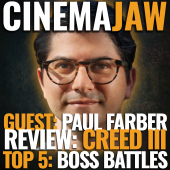 Update Required
To play the media you will need to either update your browser to a recent version or update your
Flash plugin
.
Reviewed: Creed 3
Trivia: Boxer Movie Trivia
Celebrating This Month: Willem Dafoe


Wow. 600 episodes! Thanks to all you listeners (JawHeads) who have enjoyed our content over the years!
This week, we pull no punches as we take some jabs at Creed 3 and the Rockyverse in general. Mind you, I say jab to make a boxing pun, we all seem to generally be big fans of the series as a whole. Can this latest entry knock us out, or is it outmatched by its box-office competition?
Joining us to help decide is a bit of a Rocky expert. Paul Farber.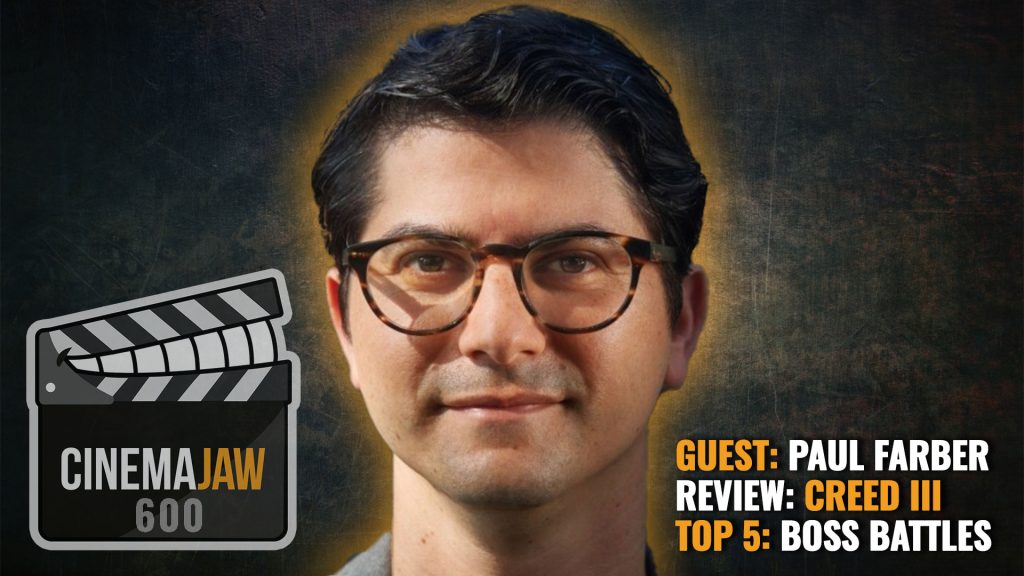 Paul Farber is the Host and Creator of The Statue, a mini-series podcast about the famous Rocky statue in Philidelphia. He is among the nation's thought leaders on monuments and public space. Farber is the Director and Co-Founder of Monument Lab, a nonprofit public art and history studio based in Philly.
The Statue, produced by WHYY Digital Studios, examines a monument to the most famous Philadelphian who never lived: "Rocky Balboa" of the Oscar Award-winning film Rocky (1976).
The brand-new podcast illuminates the stories of real-life Philly boxers, explores the neighborhoods around the city that run parallel to the statue, shares what makes a monument, and more. From Philly to Hollywood and beyond, Monument Lab Director and host Paul Farber goes on a six-part personal journey to survey the biography of the Rocky Statue, where life imitates art.
Matt:
5.) The Last Dragon – Sho'nuff
4.) Ghostbusters – Stay Puff Marshmallow Man
3.) The Lord of the Rings – Nazgul
2.) The Princess Bride – The 6 Fingered Man
1.) Aliens – The Queen Xenomorph
Paul:
5.) Rocky 3 – Clubber Lang
4.) Rocky 5 – Tommy Gunn
3.) Creed 3 – Dame Anderson
2.) Rocky – Apollo Creed
1.) Rocky 4 – Ivan Drago
Ryan:
5.) Searching for Bobby Fisher – Josh
4.) The Revenant – John Fitzgerald
3.) Seabiscuit – War Admiral
2.) Gladiator – Commodus
1.) Kill Bill Vol 1 – Cottonmouth