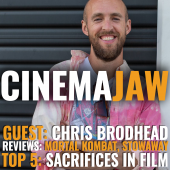 Update Required
To play the media you will need to either update your browser to a recent version or update your
Flash plugin
.
Reviewed: Stowaway, Mortal Kombat
Trivia: Astronaut Movie Trivia
Sponsored by: Overcast
Sacrifice. Though we try to have a little fun with the definition, we are mostly talking about a heroic or redemptive sacrifice. A character who chooses to end their story in order for the greater story to continue. The film world is rife with examples! This week on CinemaJaw, in honor of our review of Netflix latest astronaut film, Stowaway, we are covering our Top 5 Sacrifices in film.
Speaking of astronauts… We need an intrepid voyager to join us on this mission.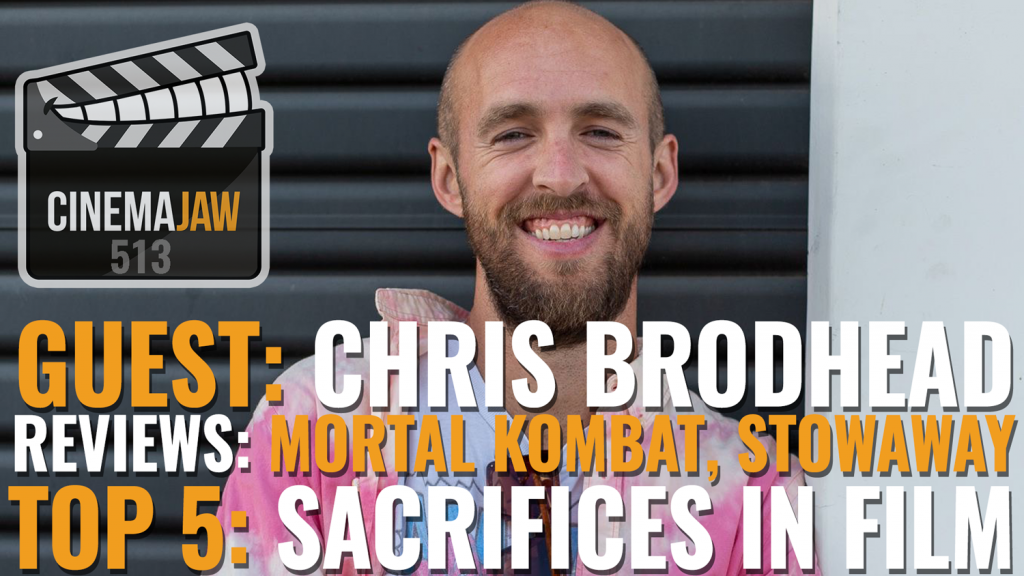 Chris Brodhead is a filmmaker, podcaster, entrepreneur and former employee of NASA. Chris went to film school and received his MBA from UCF, then worked for NASA until realizing his heart was more focused on writing and directing films so he moved to Chicago to study comedy and then to Los Angeles to continue pursuing his filmmaking dreams while avoiding the winter. He currently owns and manages the podcast production company
http://FamousFounder.com
and hosts the podcast "Anxious Filmmaker"
https://anxiousfilmmaker.com/
Connect with him on LI if ya want
www.linkedin.com/in/chrisbrodhead
.
@ChrisBrodhead
on Instagram (
https://www.instagram.com/chrisbrodhead
) and
@AnxiousFilmmaker
on TikTok (
http://tiktok.com/@anxiousfilmmaker
)
So buckle in we're about to lift off!
Matt:
5.) "Are you satisfied with your care?" – Big Hero Six
4.) "Kali Ma!" – Temple of Doom
3.) The whole crew – Rogue One
2.) Thumbs Up ? – T2
1.) Bye Bye, Bing Bong – Inside Out
Chris:
5.) The Narrator Kills Tyler – Fight Club
4.) "Witness me!" – Mad Max Fury Road
3.) Burning the letter – The Dark Knight
2.) You'll have to kill me – True Romance
1.) The Incinerator – Toy Story 3
Ryan:
5.) "You are!" – Executive Decision
4.) Spock – Wrath of Khan
3.) Shhhhh – A Quiet Place
2.) Breathing in – T2
1.) You Shall Not Pass – Fellowship of the Rings