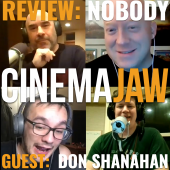 Update Required
To play the media you will need to either update your browser to a recent version or update your
Flash plugin
.
Reviewed: Cherry, Coming 2 America
Trivia: Zack Snyder Movie Trivia
CinemaWAR: Who's had the better movie career so far – David Cross or Bob Odenkirk?
Sponsored by: Overcast
This week on CinemaJaw we start off mild, but by the end of the show, we get WILD! Just like every week, only this week we are covering our Top 5 Mild to Wild Characters. These are the characters that begin a story as demure geeks, or soft-spoken softies only to find their inner strength (for better or worse) and become changed by the end. We are doing this in honor of the new Bob Odenkirk movie that is turning heads… Nobody! (We also have a review of Nobody to boot).
Joining us is a man who's always been wild, Don Shanahan!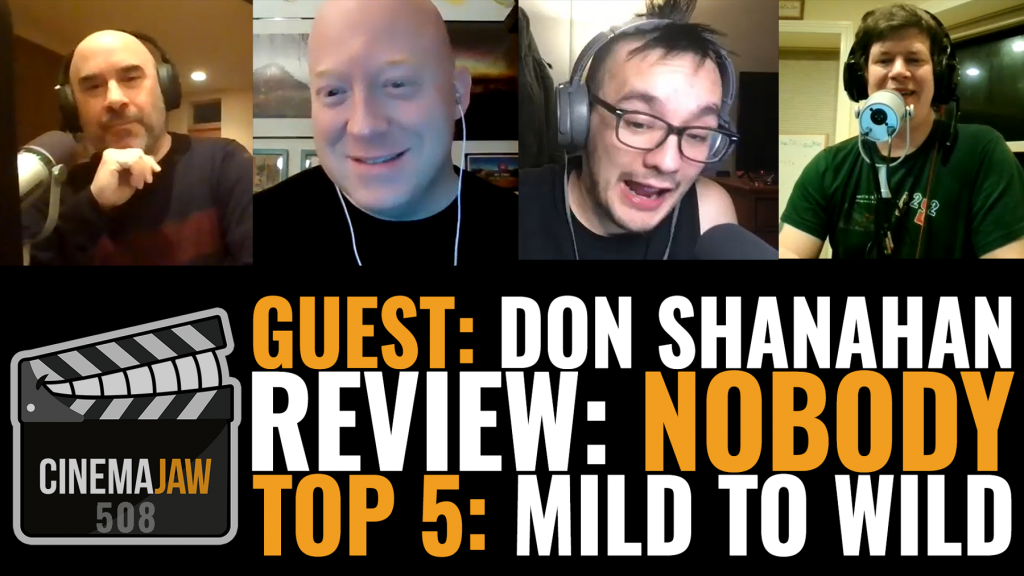 DON SHANAHAN is a Chicago-based and Rotten Tomatoes-approved film critic writing on his website "Every Movie Has a Lesson," the 25 Years Later site and also on Medium.com. As a school educator by day, Don writes his movie reviews with life lessons in mind, from the serious to the farcical. He is a proud director and one of the founders of the Chicago Indie Critics and a member of the nationally-recognized Online Film Critics Society. What's wild and new in Don's world? Together with partner Will Johnson, Don just launched Cinephile Hissy Fit Podcast, a show that pits the two critics on opposite sides of a classic film. You should check it out!
So don't just sit there – GET WILD!
Listen to this 'Jaw!!!
Top 5 Mild To Wild Characters
Matt:
5.) Charles Driggs – Something Wild
4.) Jennifer Hills – I Spit On Your Grave
3.) Carrie White – Carrie
2.) Samantha Caine – The Long Kiss Goodnight
1.) Nevel Longbottom – The Harry Potter Series
Don:
5.) Laverne Hooks – Police Academy
4.) Paul Serone – Anaconda
3.) Carey Mulligan – Promising Young Woman
2.) Narrator – Fight Club
1.) Norman Bates – Psycho
Ry:
5.) Grace Marshall – The Lodge
4.) Winslow – The Lighthouse
3.) Erica Bain – The Brave One
2.) Ray Peterson – The Burbs
1.) Peter Loew – Vampire Kiss