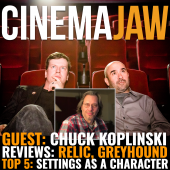 Update Required
To play the media you will need to either update your browser to a recent version or update your
Flash plugin
.
Reviewed: Relic, Greyhound
Top 5: Settings as a Character
Trivia: Tom Hanks Quotes Trivia
Sponsored by: Overcast
Leaves and twigs crunch beneath your feet as you look out through a cloud of your breath into the dark forest. You pause, shivering, then placing one boot in front of the other you enter the dark and foreboding wood. Soon you see it, the witch's cabin. Dare you enter? Surely you must be in a movie with a setting like this.
Settings can be just as important to a story as any of the characters or plot points. In some films, settings can even BE characters unto themselves. This week on CinemaJaw we pay attention to where we are as we cover our Top 5 Settings-as-a-Character in film.
Joining us is a guy who operates in several settings…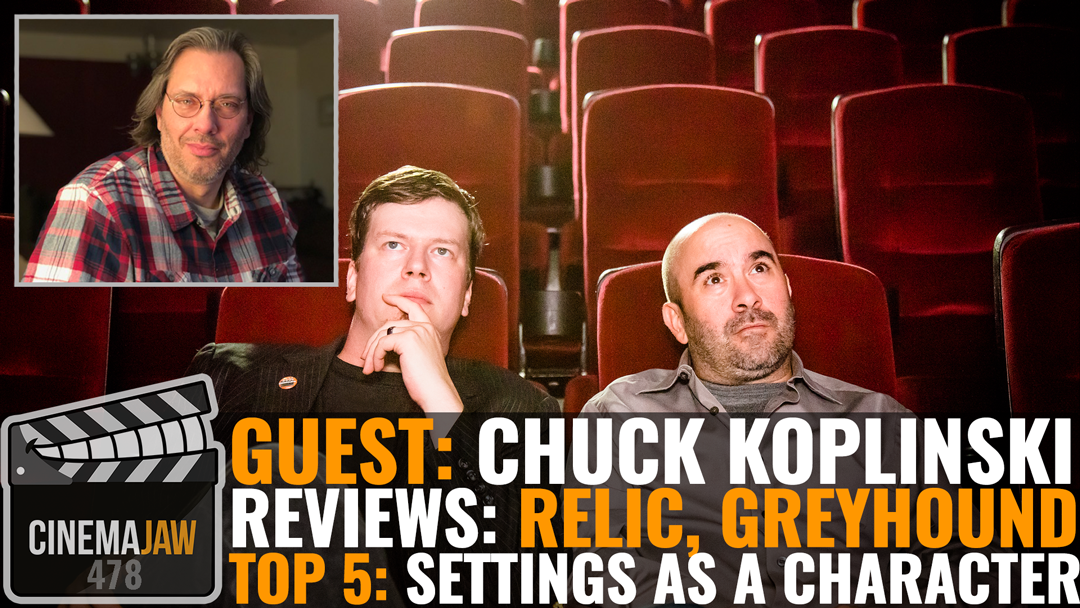 Chuck Koplinski is a writer, TV and radio personality, podcaster, fellow critic, and the long-overdue second half of the Reel Talk with Chuck and Pam team. Chuck has been reviewing films for various Central Illinois publications for over 25 years, including the Champaign-Urbana News-Gazette and Springfield's Illinois Times. A member of Rotten Tomatoes, the Broadcast Film Critics Association and Chicago Film Critic's Association, he has a weekly film segment on WCIA-TV Channel and MIX 94.5 FM with Pam Powell.
Nevermind that flickering in your flashlight… just steel yourself for the exploration… We enter the unknown.
Listen in!
Top 5 Settings as a Character
Matt:
5. Radiator Springs – Cars
4. The Encom Mainframe – Tron
3. Gotham City – Joker
2. Peach Trees  (Mega-City One) – Dredd
1. The Overlook Hotel – The Shinning
Ry:
5.) The mansion – Crimson Peak
4.) Alcatraz – Escape from Alcatraz
3.) The cave – The Descent
2.) The city – Dark City
1.) Park's Home – Parasite