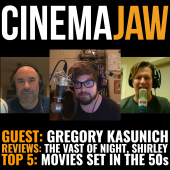 Update Required
To play the media you will need to either update your browser to a recent version or update your
Flash plugin
.
Reviewed: The Vast of Night, Shirley
Top 5: Movies set in the 50s
Trivia: Directorial Debut Movie Trivia
Sponsored by: Overcast
The Midcentury was an interesting time in the US. Everything was changing just as much as everything was struggling to stay exactly the same. Norman Rockwell, white picket fences, track houses, there was innocence in the air. That innocence was masking a dark underbelly often explored in art. The 1950s are fertile ground for storytelling as the decade itself was strange enough in reality, but also soaked with stylistic retrofuturism that still makes for amazing backdrops. This week on CinemaJaw we go back in time to explore movies SET in (but not made in) the 1950s.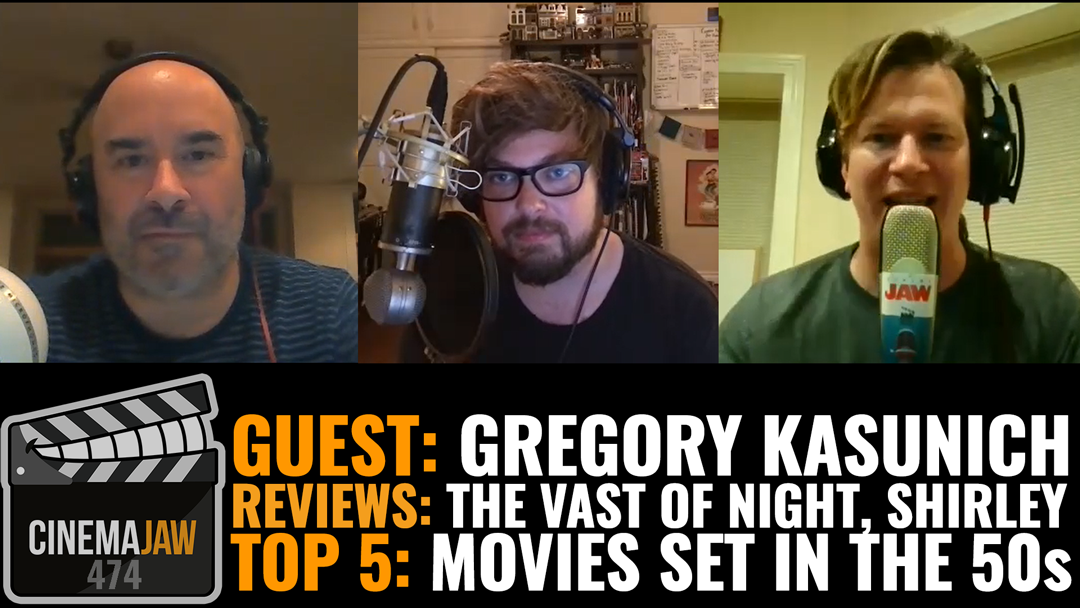 Joining us is an intrepid time traveler. Gregory JM Kasunich is an award-winning writer and director.? His body of work includes national & global campaigns and short-form content, for brands such as Disney, Lucasfilm, General Mills, DirectTV, Mattel, iHeartRadio, and Taylor Swift. Beginning his career at Dreamworks, Gregory's knowledge of animation makes him uniquely suited to direct projects that integrate both live-action and animation elements. Gregory's work is visually stylized, musically and rhythmically driven, oftentimes incorporating elements of animation, choreography, and highly technical camera work. His work generally contains minimal dialogue and leans more into the visual aspects of storytelling in order to minimize the distance between the audience and the subject. ?Currently, his short film When You Know You Know is making the rounds on the festival circuit.
So sit back and relax. Go back in time with us.
Top 5 Movies Set in the 50s
Matt:
5.) Good Night and Good Luck
4.) The Outsiders
3.) Hairspray
2.) Fido
1.) Stand By Me
Gregory:
5.) The Master
4.) The Hudsucker Proxy
3.) Ed Wood
2.) Back to the Future
1.) The Shawshank Redemption
Ry:
5.) Vera Drake
4.) Far From Heaven
3.) Howl
2.) Brooklyn
1.) Revolutionary Road