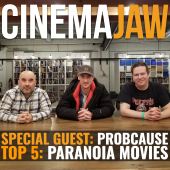 Update Required
To play the media you will need to either update your browser to a recent version or update your
Flash plugin
.
Reviewed: The Invisible Man
Top 5: Paranoia Movies
CinemaWAR: Who is the better actor Josh Brolin or Kevin Bacon?
Trivia: "O" movie trivia / Movie Titles that start with O
Sponsored by: Overcast
Just becasue you're paranoid, doesn't mean they're not after you! Look over your shoulder, are they watching? Who's that man on the bench in the sunglasses… is he a part of all of this? Wait. Who why is she whispering to her watch? Are they on to you? Are they following you? Are you being watched? Nah… probably not. You're probably just paranoid.
Paranoia is such a delightful plot device since it can give viewers two sets of reality to believe in. It can also be a great vehicle to drive a plot forward! This week on CinemaJaw we lock the doors and don our tin-foil hats as we discuss our Top 5 Paranoia Movies, in honor of The Invisible Man.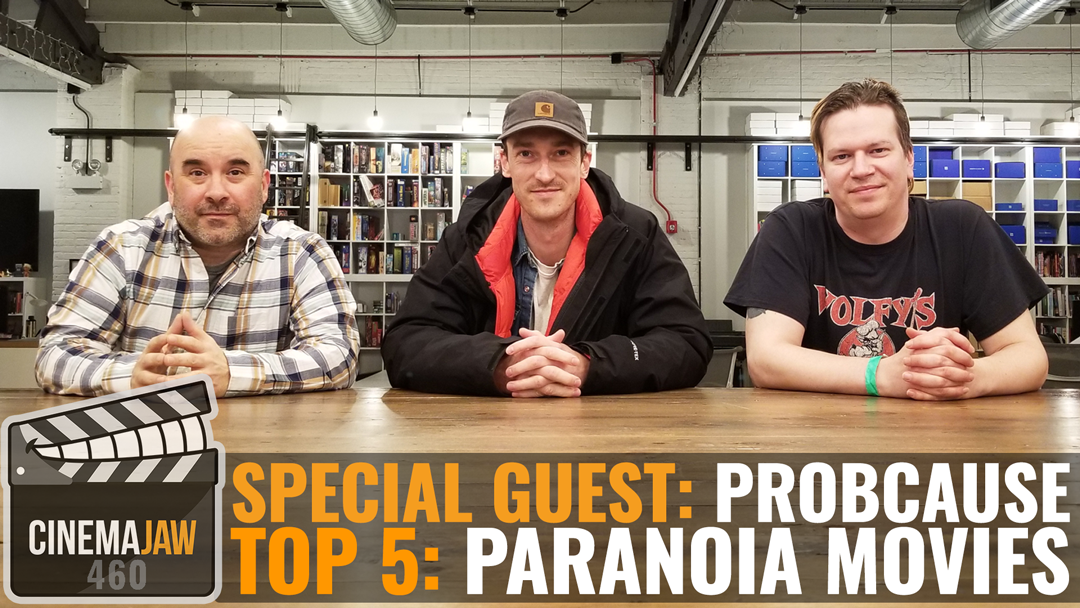 Joining us is a guy who people really are following… his fans, Musician ,Artist and fellow Chicagoan, ProbCause. What began as a career in hip-hop music, soon grew into a larger world of creativity for ProbCause. Between touring, animating, designing and producing he continues to elevate on every stage he performs on. Prob has worked with Chance the Rapper, GRiZ, Gramatik, Action Bronson and more and just released Junkyard Samurai, his collaborative album with The Palmer Squares.
We talk about a couple of his music videos in the episode, so take a gander at those below.
You don't have to be paranoid about missing a CinemaJaw episode anymore!
Matt:
5. Coherence
4. They Live
3. 1984
2. The Truman Show
1. Invasion of The Body Snatchers
ProbCause:
5. Bug
4. Trumbo
3. Clue
2. The Matrix
1. The Truman Show
Ry:
5. The Invitation
4. Marathon Man
3. 10 Cloverfield Lane
2. The Conversation
1. Take Shelter