Update Required
To play the media you will need to either update your browser to a recent version or update your
Flash plugin
.
Reviewed: IT Chapter Two
I for an I: The Goldfinch
Trivia: Nicole Kidman Costar movie Trivia
Sponsored by: Busy Beaver Buttons
Reunited, and it feels so good. Reunited 'cause we understood. There's one perfect fit, and, sugar, this one is it. We both are so excited 'cause we're reunited, hey, hey! From reconciliation to a high school reunion… Reuinited can mean a bunch of different things. With all definitions in mind. This week on CinemaJaw we dive into our Top 5 Reunion Movies.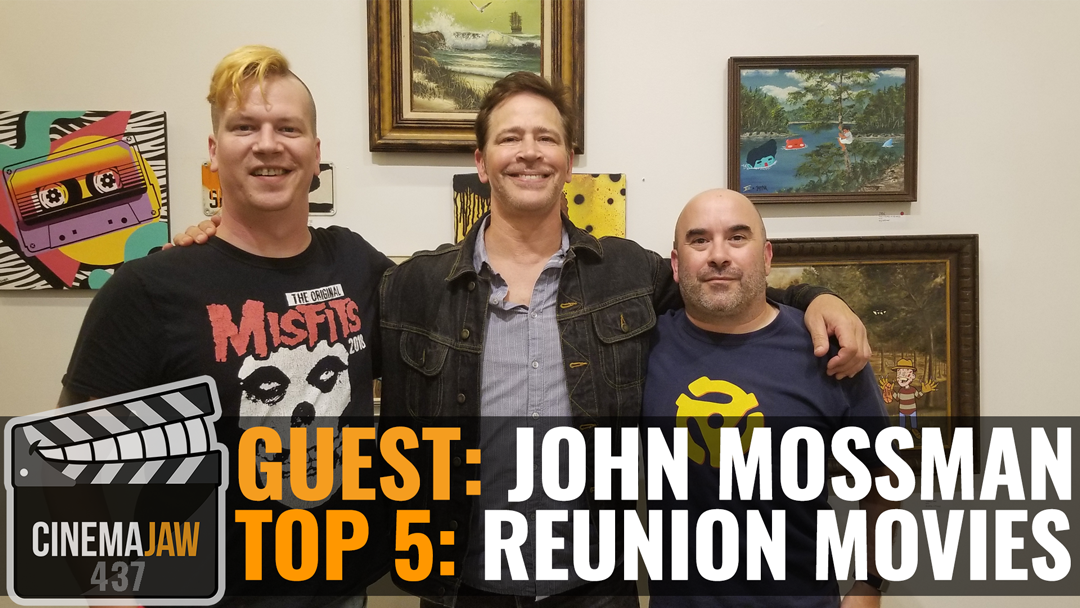 Joining us is a guy that we are united with for the first time (next time will be a reunion). John Mossman has  directed, written and produced numerous award-winning films, documentaries and videos.  His feature film Into The Wake, received several Best of Fests and a Best Director award.  He aslo happens to be a part of the Harold Ramis Film School, a tremendous resource for would-be filmmakers. In the spirit of the late, great Harold Ramis, this school encourages students to work from the top of their intelligence. Students are exposed to great comedic films, literature and inspired teachers to help nurture their emotional and intellectual storytelling abilities. What's cool is that all students of HRFS graduate the program with produced content be it a screenplay, sitcom pilot, hour-long pilot, or short film. This program is designed for people with a comedic point of view and a desire to create content. Do check it out!
So welcome back, so happy that you are reunited with your favorite movies podcast… CinemaJaw!
Have a listen!
Matt:
5.) Krisha
4.) Hot Tub Time Machine
3.) Less Than Zero
2.) The Princess Bride
1.) Romy and Michele's High School Reunion
John:
5.) Kill Bill
4.) The Graduate
3.) The Blues Brothers
2.) Casablanca
1.) Groundhog Day
Ryan:
5.) This is Where I Leave You
4.) The Impossible
3.) The Debt
2.) The World's End
1.) Lion