Update Required
To play the media you will need to either update your browser to a recent version or update your
Flash plugin
.
Of all the episodes that had to be late. Normally it's not such a big deal, but you see, this one is time sensitive! Especially in light of recent violence at the movies, we implore you to support this project that you are about to hear about, which largely deals with gun violence and how youths are using skateboarding as a healthy alternative to it. Please… RIGHT NOW… go to the Skate Or Die Kisckstarter and donate. Help this highly worthy film reach its goal, and lets get this story told!!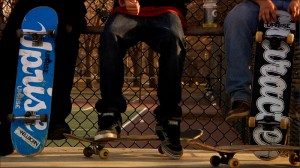 It's no secret on CinemaJaw that Documentary is one of our favorite genres. So then you should know that we have been saving it for a very special guest. Did we ever find one. Ryan Ferguson is a documentary filmmaker from sweet home Chicago, with a very special project in the works called Skate Or Die. The film is about skateboarding, yes, but more importantly it is about skateboarding in gang infested South West Chicago, where kids are besieged by imaginary turf boundaries and many ultimately give in to the pressure and allure of joining a gang. Some have managed to break the cycle and credit thier passion for skateboarding. You know what, just take a listen to it in the filmmakers own words and hear thier pitch.
Again, we STRONGLY urge you to go on Kickstarter right now and help these guys reach their goal! and Follow them on Twitter too!
Ryan joins us for the whole episode as we talk Docs and list our Top 5 of the past decade. Not to mention play trivia, CinemaWAR and all the usual JAWtastic stuff.
I for an I: The Dark Knight Rises
Reviewed This Episode: The Amazing Spider-man, Ted, Brave, Project X , Jeff Who Lives At Home, Sherlock Holmes Game of Shadows
CinemaWAR: Will Nolan's Batman run go down as the greatest comic book movie series ever?