CinemaJaw 118, Cons Scams & Hustles Movies w/guest Kaos Kay
Saturday, August 4th, 2012 at 3:17 am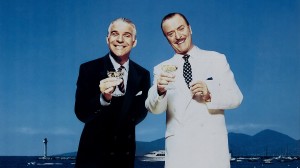 Cons, scams, grifts and hustles. While no one likes to be the victim of such petty crimes, conversely no one can avoid a degre of admiration for the charisma, wit and nerves needed to pull them off. Perhaps that is why films about con artists are usually so popular. They combine the layers of intricacy involved with the scam itself, with the morally ambiguous character of the grifters themselves and the romance of life on the edge. We at CinemaJaw can't peel our eyes away from these movies, and submitted here for your approval are Matt and Ryan's top 5 in the genre.
Matt will even teach you a classic con in this episode, so hold on to your tightey whities.
Besides all that, we are joined by popular Chicago dubstep DJ, Kaos Kay (no relation) and Kaos will throw down in a trivia match NOT TO BE MISSED!
I for an I: The Watch
Reviewed This Episode: To Rome with Love, The Tsunami and the Cherry Blossom
CinemaWAR: CATFIGHT! Who has the better career Ann Hathaway or Michelle Pfiffer
Podcast: Play in new window | Download
Filed under: episodes
Like this post? Subscribe to my RSS feed and get loads more!