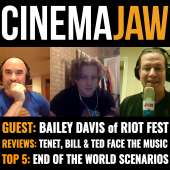 Update Required
To play the media you will need to either update your browser to a recent version or update your
Flash plugin
.
Reviewed: Tenet, Bill & Ted Face the Music
Top 5: End of the World Scenarios
Trivia: Christopher Nolan Movie Trivia
Sponsored by: Overcast
I can almost hear REM playing. The end is nigh, apocalypse, armageddon, judgment day… The End of the World! Talking about the pretend end… In film (need to make that distinction in 2020)!
Many many films contain heroes fighting against an existential threat to the entire world. After all, how could the stakes get any higher? It's compelling. It plays on our fears and our power fantasies. End of the World Scenarios are also featured in the two BIG films we are reviewing this week – Bill & Ted Face the Music, and the highly anticipated Christopher Nolan film Tenet. So, naturally, we are going to choose our Top 5 most creative End of the World Scenarios in film.
Joining us is a guy who put the ROCK in Ragnarok… Bailey Davis of Riot Fest.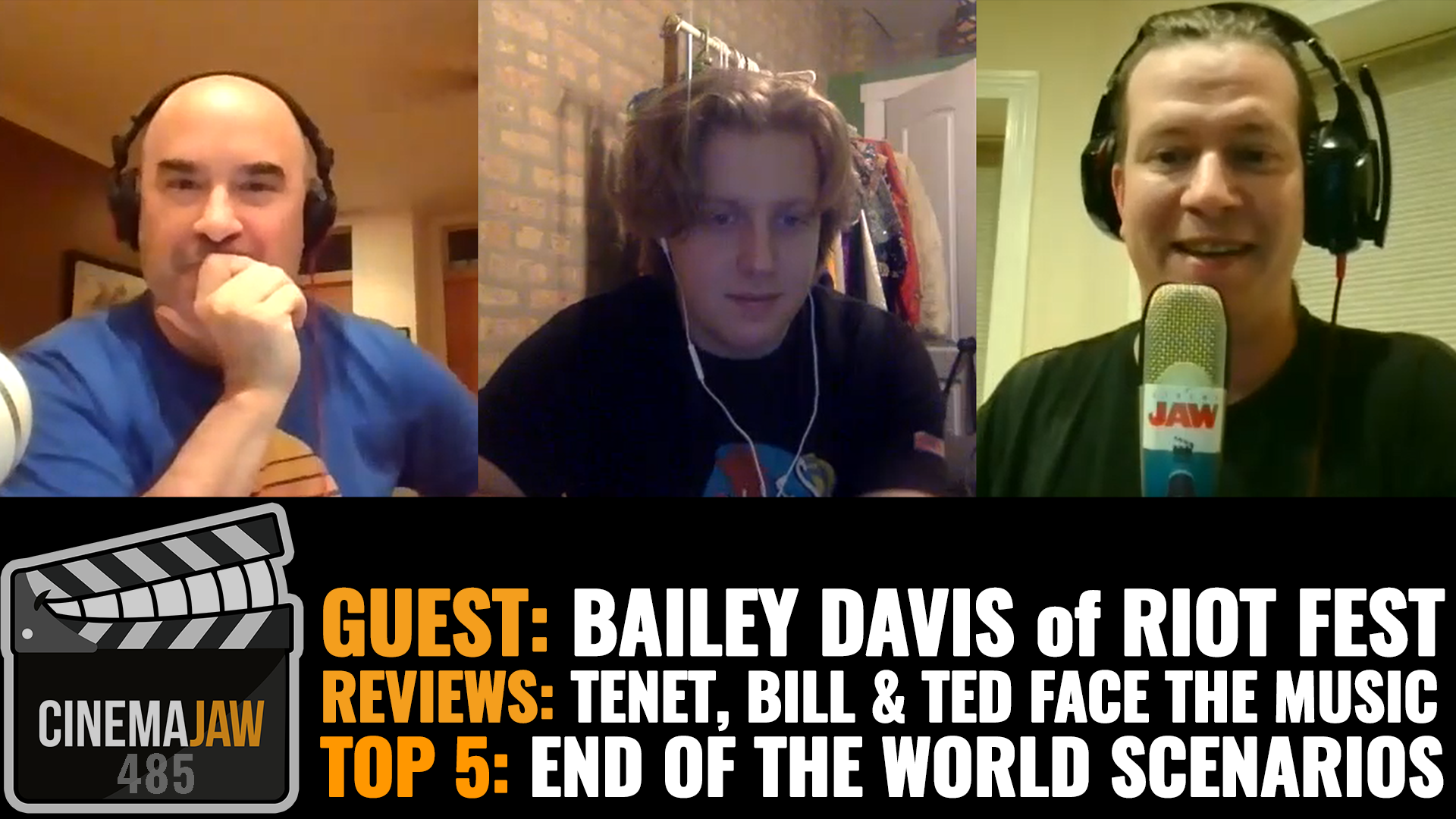 Riot Fest is a well-known music festival that obviously had to change plans due to the pandemic. That's why Bailey is here introducing Riot Fest At The Movies! At the Chicago Drive-In on September 11 & 12  a double-feature each night with snacks, fireworks, and exclusive merch. 
On Friday, drive up and enjoy Kevin Smith's indie favorite Clerks, followed by Kill Bill Vol. 1, Quentin Tarantino's bloody revenge thriller. Saturday will open with a cult-classic vampire flick, The Lost Boys, followed by Stanley Kubrick's unforgettable A Clockwork Orange. A fireworks show will light up the sky each night.
See you at the Drive-In, but until then… plug in those earbuds and get yourself some CinemaJaw!
Top 5 End of the World Scenarios
Matt:
5.) Dawn of the Dead
4.) The Neverending Story
3.) Snowpiercer
2.) Children of Men
1.) The Birds
Bailey:
5.) Recess: School's Out
4.) Cabin in the Woods
3.) Bill & Ted's Excellent Adventure
2.) The Matrix
1.) AKIRA
Ry:
5.) Star Trek (2009)
4.) War Games
3.) Crimson Tide
2.) Pacific Rim
1.) The 5th Element