What is this thing?
A podcast is a type of digital media consisting of an episodic series of files (either audio or video) subscribed to and downloaded through web syndication. The word is a neologism derived from "broadcast" and "pod" from the success of the iPod, as podcasts are often listened to on portable media players
Quite simply stated, CinemaJaw is just two guys jawin' about movies. Hence the name. There are various segments like: Top 5 Lists, Guest Vs. Host Trivia, Hollywood Headlines, etc. But the show is at it's best when it flies off on one of  many tangents and the true fandom of cinema shows. We also have some amazing guests!
The goal here is to turn people on to movies they may not have watched or even heard of, and also to let people know what new movies in theaters to go and see. (Interested or Ignore or "I for an I"). We hope people will treat this podcast as both a service and entertainment! Please drop CinemaJaw an email and let us know what you think!
Ry and Matt have fun doing CinemaJaw, but rest assured they are both professionals and qualified experts in both film and pop-culture.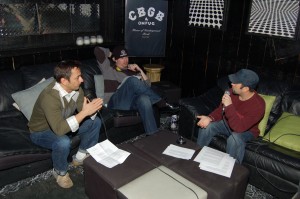 When you get to work, call up our little site and press play, pop on some headphones and goof off while being edu-tained.
Hell… It beats workin'.